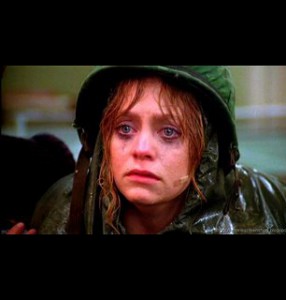 …and as you might expect, they're hopped up on Hopium, and square the circle as everyone expected, by insisting that the standards being lowered aren't actually being lowered.
The Army is rather up-front about its constituency for this change: careerist female officers. Initially, the only women invited to the specialties will be career officers. They're calling this "leader first," because women can't be led by men or something. From the press release:
Initially, the Army will manage the assignments of women through a "leader first" approach. Beginning this year, women will be able to branch as Infantry and Armor officers, followed then by female enlisted soldiers to ensure they are assigned to operational units with integrated women leaders.
Standards will be adjusted to fit the available women.
Army flack Peter Cook has a further press release here, emphasizing that the services can open all specialties "right away." More of the social justice bullshit barrage:
We found some interesting things in (or between the lines of) the special operations plan. First, GEN Votel notes that the command has successfully defended their existing standards as mission-related, and therefore will continue to hold the standards, women be damned. (We'll see how that holds up when Princess calls Daddy in tears because it's not faaaiir in SFAS, BUD/S, green platoon or what have you). Second, we notice that Votel didn't hang onto the implementation grenade for a minute longer than he had to, but dropped it in the lap of MG Chris Haas.
We wouldn't want to be among Haas's direct reports right now… 'cause we think that grenade isn't done being tossed just yet.
As to standards, here's some of the clues in the USSOCOM memo that suggest that standards are not moving an inch for the Amazons. Emphasis ours.
USSOCOM executed a rigorous third party review process resulting in the validation of our existing assessment, training, and occupational standards as operationally relevant and gender-neutral. Established standards are key to the selection, training, operational readiness, and continued performance of Special Operations Forces (SOF) personnel. Adherence to these rigorous standards is crucial to our combat effectiveness and the preservation of unit readiness, cohesion, and morale.
That's a shot across Ash Carter's bow, but Carter's probably not culturally oriented enough to recognize it. When he and whichever empty suit is sitting at the Secretary of the Army desk start pushing to drop the standards, they'll be reminded — possibly publicly — that they signed off on this document.
The Army plan, conversely, is the usual buzzword bingo card, plus, because it's Big Green, it wouldn't be complete if it weren't full of gaudy graphics with badly mismatched colors, documenting some optically-challenged lieutenant colonel's struggles with the illustration module in PowerPoint.
For crying out loud, we've had official gays in the Army for ages now, can't we get one of them to color-coordinate the jeezly slides?
The Navy, for its part, notes that females have not been beating down the doors for a chance to try out for previously opened physically challenging specialties, and those that have tried have qualified at much lower rates than men.
Population Size: NSW acknowledges that equal opportunity may not produce equal results as seen in other U.S. Navy Special Operations programs. While completely open to females, the Navy Diver community is 0.6% female, Navy enlisted EOD is 0.9% female. and EOD officers are 2.5% female. Statistically, females have lower assessment, selection, and qualification program success rates within these communities. Enlisted EOD females have a 13% success rate as compared to 31% for males; Navy Diver females have an 18% success rate as compared to 47% for males.
NSW, as USSSOCOM suggests,, is going to hold the previous standards:
All standards for accession, training, qualification, advancement, retention, and assignment were reviewed and will remain the same.
We'll see how long that bold intention lasts after a couple years of 0.9% of this and 1/3 the pass rate of that keeps crossing desks in the E Ring.
And the Navy has one particular objection that ought to be stapled to Ash Carter's forehead (emphasis ours again):
Increasing opportunity in direct ground combat units in support of integration objectives is not anticipated to increase combat readiness or effectiveness. Physical performance is not the only measure of a sailor/soldier, but it is a key measure of a primary requirement for ground combat – fighting men at close quarters. In the near term, achieving integration, and evolving existing cultures will channel focus and energy away from core combat readiness and effectiveness efforts. This is a critical risk concern as SOF combat operations run on carefully calculated but thin margins. Additional risk factors include anticipated adjustment of standards, disruption of social cohesion, partnering compatibility, medical concerns to female, media attention, and the longevity and retention of expertise.
This puts it in black and white. "Do this if you will, Carter, but stop lying that there are no costs associated with these intangible, feel-good, virtue-signalling benefits."
Update
As this was prepared to go to press, on 17 March 2014, Ash Carter released his 2017 strategy document: "2017 Defense Posture Statement: Taking the Long View, Investing for the Future" (.pdf, naturally). No surprises here. He does lead with the strategy stuff — hinting that the giant sucking sound you hear is the Administration pulling its head out about ISIL, which the short-lived Russian intervention did more to harm that the years of Pentagon and White House dithering — and even says bad things about Iran at one point. But you can see he's phoning it in. All the stuff about the war he really cares about — the Social Justice War — is tacked on towards the end, perhaps hoping people won't read that far.
Update II
Received from a retired senior field grade Special Forces officer, this Army Times article lists the requirements for women in Special Forces. As he comments, the physical is no problem for any healthy young person… doing 150 miles in a week under a 65-100 lb. pack is an equine of another hue entirely.
http://www.armytimes.com/story/military/careers/army/enlisted/2016/03/16/army-special-forces-gender-neutral-women-qualifications/81852684/
Weaponsman comment: the lower you set the initial entry bar relative to the graduation requirement, the more candidates you break when their ambition commits them to a course of action their musculoskeletal system can't support. That's a pity, as these candidates would never have graduated anyway, and now they can't return to their previous best-case job, either. But it's where not telling the truth gets you, and for a couple of decades we haven't been telling the truth (culturally) about women and combat.