No sooner had we written that the T1E1 Anti-Tank Rifle of 1940-44 was "the only US AT Rifle" when we saw another AT Rifle mentioned in passing in a very interesting Bruce Canfield article on Winchester's Light Rifle. (Hat tip, TFB). We got the notion to look it up and found this AT Rifle… but, while it's a Winchester Anti-Tank rifle not the one Bruce mentioned. He referred to a WWII rifle that was a scaled up version of David M. Williams's short-stroke gas-piston action.  This is a WWI bolt gun, and a strange one it is.
The Winchester Pugsley .50 AT Rifle
The gun in the photo (which comes from Houze's Winchester Repeating Arms Company, where this oddball is briefly covered on pp. 189-192) is clearly not a finished work, but a development mule.
The firearm was designed by Edwin Pugsley, an important designer for Winchester in the first half of the 20th Century. Pugsley did not have the celebrity profile of Williams; he seems to have been quietly productive, a kind man with a mischievous personality. He rose over the years into engineering management; Winchester's success shows he was a good selection, even if he'll never have a biopic, a Bureau of Prisons history, or anecdotes about threatening co-workers' lives over professional disagreements. He did have some remarkable friends, incuding Carl Swebelius of High Standard (Winchester's toolroom wound up making several prototypes for Swebelius on the strength of this friendship) and cartoonist Charles Addams, who modeled a recurring character in his "Addams Family" strip (which ran in the New Yorker) on his friend.
Returning to the rifle itself, its appearance is more redolent of Buck Rogers in the 25th Century, than anything you'd expect to see from Winchester. The bare finish and exposed mechanicals show that it's a long way from being ready to go to the Western Front, and it appears to have been put away when war's end froze it in this state of arrested development. It's clearly meant to have a bipod or tripod. What looks like it might be cooling fins actually appears to  be a spring, associated with the gun mount, and acting to moderate recoil. Assuming the .50 round intended here was the .50 BMG, the weapon appears to have a 10-round magazine and be approximately the same size as a modern Barrett.
The pistol grip, which is styled like that of an M1911 service pistol, also serves as the operating handle: it has a 90º counterclockwise throw, then the gunner slides it back and the top-mounted magazine presents the next round. Here's an image from the patent for this unusual feature.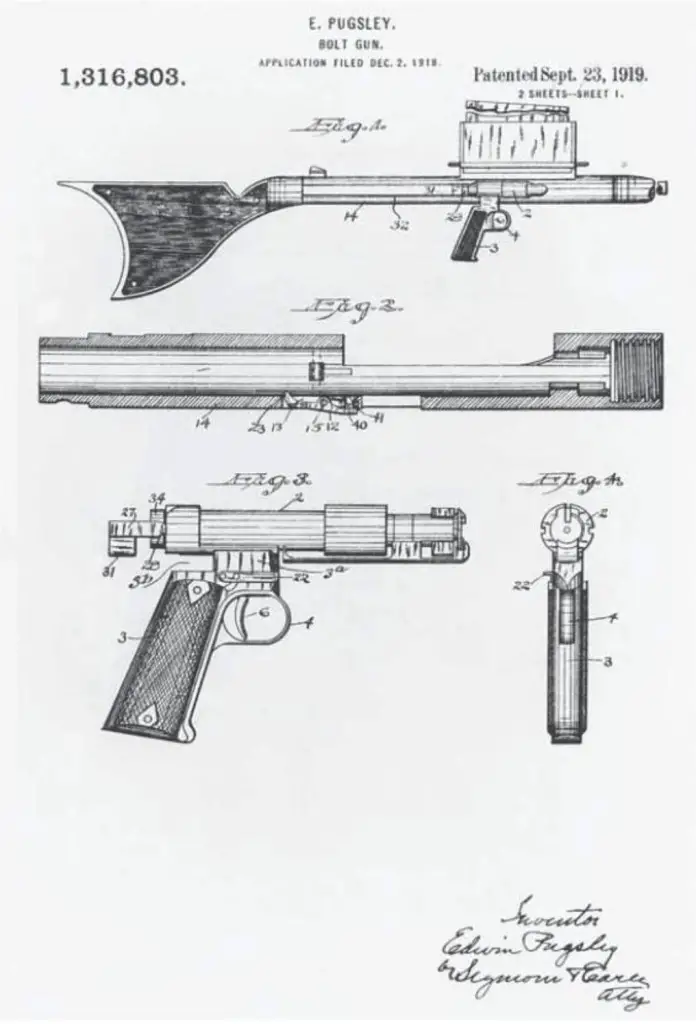 The tubular receiver is billet steel. The strange pistol-grip/bolt has two forward locking lugs, and aft, has two widened bearing areas that slide on the inside of the tubular receiver. The extractor seems to be modeled on Mauser practice, and the ejector appears to be welded or otherwise secured inside the left side of the receiver to eject spent casings (or unfired cartridges) out the right-side ejection port.
The quantity built cannot be many, and it does not seem to have been ready for field trials at the time development was called off. Houze's verdict was that "The anti-tank rifle, designed in 1918 by Edwin Pugsley, is of note more for its outlandish appearance than its mechanics."1
But wait! That leaves the Williams gun still hanging out there, and we can't have that.
The Winchester Williams .50 AT Rifle
Williams was an interesting character, an ex-con who became a firearms designer (couldn't happen under today's laws; ATF would yank one's 07 FFL for hiring him) and had his own biopic (with Jimmy Stewrt, no less). The biopic is great fun but rather disconnected from real life, and definitely all wet about Williams's design efforts — he did not design the M1 Carbine, and was not on the team that developed it. The Carbine only uses his patented gas system. What he did design, though, was a semi- and full-automatic action that scaled rather readily from .30 carbine to .30-06 to .50 BMG, and that was ultimately developed in four versions (with few cross-version interchangeable parts, but complete commonality of design and mechanical principles).
The four versions were carbine, rifle, automatic rifle (a BAR competitor that probably deserves its own post), and anti-tank rifle, the one that concerns us today. The principal virtues of the Williams design were light weight and simplicity compared to its competitors — even its carbine version was lighter and simpler than the light, simple M1 designed by another team at Winchester, using Williams's patented gas piston. The Winchester Automatic Rifle was pounds lighter than the BAR, and the semi-auto service rifle version lighter than the Garand. A side benefit of this light weight was reduced material requirements, perhaps not a big deal when you're making one rifle but of national significance when you're making millions. (World War II German and Soviet weapons-selection documents also show that those nations took material use and machine time into account when downselection options for manufacture).
So of course, we had to keep looking, and in the same book we did find the 1940 Winchester Williams Anti-Tank rifle, just as Canfield told us.
Houze describes it as one of…
…a series of arms based upon David M. Williams' design. While the carbine he had developed, as an alternative to the M1 carbine, was not completed until December1941, it was viewed as "unquestionably an advance on the one that was accepted."

One of the advantages of the Williams' design (Plates 294 and 295) was that it allowed the action to be stripped for cleaning or replacing broken parts simply by removing a bolt housing that was secured to the receiver by an interrupted thread locking ring. Williams also employed a superior lockwork than that used in either the M1 carbine or M1 rifle. Plate293
In acknowledgment of the design's advantages, samples were made in .30carbine, .30-60 and .50 caliber.

Though Ordnance Department tests of the .30-06 rifle version demonstrated its marked superiority over the standard M1 rifle, it was to be the light machine gun and anti-tank versions that aroused the most interest. Both of the latter incorporated an ingenious device to dampen recoil. By placing two strong coil springs on either side of the barrel breech that were attached to a recoiling lug on the barrel, Williams was able to transfer a considerable amount of the recoil forces into the springs, thereby absorbing its energy. The effect of this was to reduce the general recoil of both the light machine gun and the anti-tank rifle to the point that they were essentially recoilless. This meant that both arms could be used by infantrymen without undue stress being placed upon them during firing, a major benefit from the standpoint of accuracy as well as use. However, by the time these designs were selected for any serious testing, the war was almost over.2
One of the curiosities that surfaced during this investigation was the Winchester Tank Killer.
Curiously, it was during the testing of the .50 caliber Williams anti-tank rifle that the Winchester company seriously considered entering the automotive business for the second time in its history. On this occasion, however, unlike in 1909, the company toyed with the idea of manufacturing a light armored vehicle in which the anti-tank rifle could be mounted. Based upon a surviving photograph of the Winchester "Tank Killer," it had an overall length of approximately twelve feet and a height of four feet. The forward section of the vehicle had sloping armor, and the tracks were powered by a 1939 Chrysler Imperial engine. No record exists as to its width or crew capacity, though the size would probably have only allowed two. Other than the one built in December 1944, it is doubtful whether any others were made.3
Unfortunately, we have been unable to find a photograph of the Winchester Tank Killer. Houze notes (p. 285) that the late Lt.Col. WilliamS.Brophy had "an 8×10-inch black-and-white print of this photograph with manuscript notations of the vehicle's specifications," but the current whereabouts of this image is unknown. We are also still in the dark as to how many of the AT rifles were made, and when, if ever, they were tested. It seems unlikely it would have had a chance, having less power than the .60 calibre (15.2 x 114) T1E1, although certainly being lighter and more easily handled.
Notes
Houze, p. 189.
Houze, pp. 276-278.
Houze, p. 278.
Sources
Houze, Herbert. Winchester Repeating Arms Company. Iota, WI: Krause Publications, 2004.