Marriage doesn't always work out. For Tom and Sarah Wilford, it really didn't work out: within a week Tom had stabbed Sarah to death. Since he didn't do this in Chicago in 2016, he didn't have the ACLU to run interference with him; he did it in London in 1752, and he was tried, convicted, sentenced and hanged with the sort of vigor Britons brought to these kinds of things in Victorian days.
Laws having recently been reformed, Tom was spared the indignity of gibbeting after his hanging. They had another indignity in mind, as the Court made clear:
Thomas Wilford, you stand convicted of the horrid and unnatural crime of murdering Sarah, your wife. This Court doth adjudge that you be taken back to the place from whence you came, and there to be fed on bread and water till Wednesday next, when you are to be taken to the common place of execution, and there hanged by the neck until you are dead; after which your body is to be publicly dissected and anatomised, agreeable to an Act of Parliament in that case made and provided; and may God Almighty have mercy on your soul.
via History of British judicial hanging.
Tom was duly hanged at Tyburn, where the authorities had erected a three-sided gallows in an attempt to deal with the essential problem of hanging, for a society with a long list of undesirables to dispose of on any given day: hanging's low throughput. After the hanging, Tom became an anatomical training aid for novice doctors, which was the usual disposition of a condemned man's mortal remains; it's not as if a consecrated cemetery would take them.
When you got sentenced to death in 18th Century London, they didn't stooge about with appeals: you were dancing the Tyburn Jig two days after sentencing, unless you were fortunate enough to be sentenced on a Friday; then, they'd hold you over for Monday rather than profane the Sabbath with you.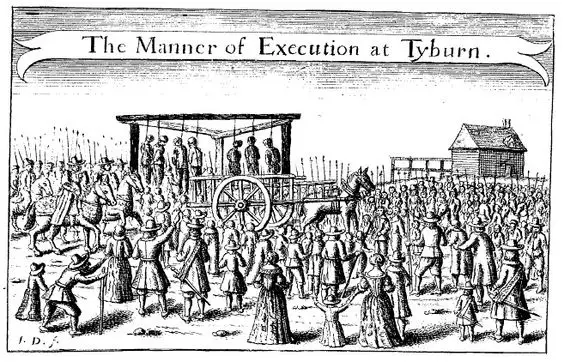 That website, Capital Punishment UK, has quite a few interesting tales of the highway robbers and pickpockets who got to dance the air jig, along with the murderers who now monopolize the extreme judicial sanction in most nations.  It also has a great deal of information on the practical application of hanging. How far does a 125 lb. person have to drop for a good clean neck-snap? A table there will tell you. You never know when a fact like that is an essential ingredient in mission accomplishment.
The death penalty in practice, at least in Georgian times, had a safety valve. Perpetrators of property crimes normally would have their death sentence commuted to transportation. (Murderers? They hung. Why ship that kind of problem to a colony to deal with?) One famous woman pickpocket was transported, but wound up hanged because she came back and resumed her prior trade. (The penalty, in fact, for returning from transportation was… death by hanging). Women were somewhat uncommon guests on the gallows, then and always. Violent and career crime is now, and was then, primarily a guy thing, despite feminists' efforts to get their Fair Share of every profession.
It's our firm belief that it is the duty of a healthy society to excise its human cancer cells, and that a robust and rapid death penalty is one means to that end. This is not an idea that has had any currency among the British elite for fifty years or more, and one that is nearly as outré among American bien-pensants. But no good has come of death penalty abolition, or even the sort of death penalty obstruction that is the coin of such murder groupies as the Atheist Criminal Lovers' Union.
The death penalty is not cruel or unusual, and, indeed, it is the only humane response to barbarism and depravity.