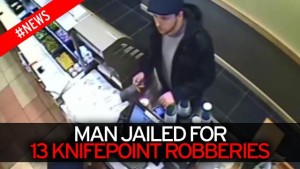 Yes, that's a meat-cutter's cleaver in the hands of prolific armed robber Craig Adams, who committed a violent armed robbery every other day or so for a month — in London, where guns are outlawed. So he did it using the cleaver, knives, and even a sword.
The lack of firearms didn't seem significantly to impede his criminal career. Only the rough knuckles of John Law on his collar did that.
Since their gun control is working so well, English authorities are trying to figure out what a London without knives would be like. If it saves one life, isn't putting the nation on a diet of baby-food worth it?
Craig Adams was jailed for seven years after pleading guilty to 13 counts of robbery and three counts of burglary.

The 33-year-old, of no fixed abode, was jailed at the Inner London Crown Court after he admitted his crimes.

This shocking CCTV video shows the criminal brandishing a knife to rob two of the 13 shops.
Knife. Stabby thing #1.
He enters what appears to be an off licence and pulls out a weapon as the cashier calmly hands over cash from the till.

Then he's seen in a takeaway and looks to be ordering food before he pulls a cleaver from his jacket inside pocket.
Cleaver. Stabber #2.w
Adams waves it at the woman behind the till in a frightening scene as she goes to open the register.

He targeted employees working late into the night, forcing them to hand over cash from the till using a number of different weapons including various knives, a large machete, a meat cleaver and even a large sword.
So we're now up to at least five different stabby/slashy things: knives (plural), machete, cleaver, sword.
Detectives previously issued two CCTV appeals showing the terrifying robberies in an attempt to identify him.

He was identified as the suspect after his palm print was lifted from Foyles Bookstore on the South Bank, London.

The 13 offences were then linked by investigators using "super-recognisers" who had reviewed clips of the robberies on a Met database showing suspects committing offences.
Sherlock Holmes? No, the "super-recognisers." Are those men, machines, or software constructs? We see some of the claims for facial recognition, and we're reminded of the heyday of bertillonage.
Adams was arrested on November 5 last year after he ran from police while robbing a Subway in Tulse Hill. Dog handlers were at the scene and Police Dog Bruno found the sword used by Adams that had been thrown over a fence
via Man jailed for seven years after he committed 13 knife point robberies in one month – Mirror Online.
So, "super-recognisers" and all, this criminal scantwit remained at large until he committed a robbery under the noses of the police, or more to the point, under the long, picky noses of the police dogs. 
And assuming that one does all one's assigned time in a British nick (seems unlikely), he'll be 40 when he gets out, right in his peak robbing prime.
No one has said what he did with the take from these 16 crimes (and, no doubt, others for which he has not been charged), but he had no traces of wealth on him, and in approximately 100% of North American robbery sprees like this, the crime take is immediately blown on alcohol, drugs, or, as the criminal embraces the conjunctive power of and, alcohol and drugs.