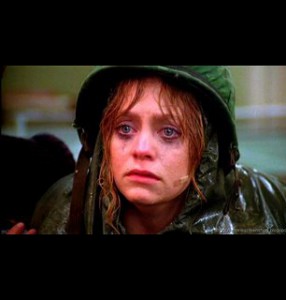 David Gelernter, in an article on the degree to which popular antipathy to Beltway "political correctness" fuels the Trump candidacy, notes en passant that the whole women-in-combat thing is PC at Shock And Awe levels:
Political correctness means that when the Marines discover that combat units are less effective if they include women, a hack overrules them. What's more important, guys, combat effectiveness or leftist dogma? No contest! Nor is it hard to notice that putting women in combat is not exactly the kind of issue that most American women are losing sleep over. It matters only to a small, powerful clique of delusional ideologues. (The insinuation that our p.c. military is upholding the rights of women everywhere, that your average American woman values feminist dogma over the strongest-possible fighting force—as if women were just too ditzy to care about boring things like winning battles—is rage-making.)

The mainstream press largely ignored the Marines story. Mainstream reporters can't see the crucial importance of political correctness because they are wholly immersed in it, can't conceive of questioning it; it is the very stuff of their thinking, their heart's blood. Most have been raised in this faith and have no other. Can you blame them if they take it for granted?
via The Elephant in the Room | The Weekly Standard.
What, reporters don't see PC slant any more than fish perceive wetness? You think? Meanwhile, here are a few other things that are going on:
Women are being recruited for direct combat specialties now. This is a bonanza for recruiters, as they can plug 5'0″ females into hard-to-fill MOS slots, get credit towards their quotas, and be well clear of the backblast area when Ashley and Alexandra bork out of training months later. Naturally, we're seeing celebratory press coverage, as if volunteering == qualification. When the Unique And Special Snowflakes™ getting fawning press coverage like this start flunking schools, expect lots of downward pressure on standards from social engineers like Ash Carter, and their stooges in the press. Although maybe the press is the actual causative agent, and Carter's the stooge? Ah, "What difference does it make?"
Women shouldn't have to follow icky military regulations — not when it interferes with following their bliss, or their feels in general. And they get Congressional cover for that (emphasis ours): "Congresswoman Chellie Pingree has asked the U.S. Marine Corps top official to review rules she feels discriminates against female recruits who have tattoos." The girl in question has a gaudy "collar" containing an insipid aphorism, and even though tattoos that show in uniform are banned, and even though the girl got the tattoo after she knew she wanted to join up, Pingree (D-ME) and this Unique and Special Snowflake™ believe that the USMC should adjust to them. (She could get the tattoo removed but that would cost her money, and anyway, the downsizing Marines should be glad to bump another kid for her, because she's special).
The Israeli example is often misquoted, even by people who ought to know better. Israel, initially a nation predominantly leftist and irreligious in orientation, experimented with women in combat in 1948. While many roles are open to Israeli women, the IDF today is careful to stick to assigning women where they can do Israel, not just their own careers, some good. French (again) at National Review sets the record straight. He relies in that on this 1992-vintage theoretical/historical paper on women in combat (including with Soviet forces and the IDF).
Writing in a brief letter to Navy Times, Norman Polmar (who probably needs no introduction to this audience) succinctly dismisses the Israeli woman-warrior legend:
Rarely mentioned, if at all, as some U.S. military leaders, mostly civilians, advocate putting women in front-line, ground combat units, is that for the foreseeable future our ground and special forces will be fighting militant Muslims. As I learned from my work with the Israeli Navy, the Israelis are reluctant to have women engage in tactical operations because: 1) Muslim men do not surrender to women; 2) men get killed trying to save women; and 3) the "treatment" of women combatants captured by Muslims.

Unfortunately, many of our political leaders have no understanding of the "real world."
Meanwhile, the draft for women continues — not in the USA, but in Bernie Sanders's lodestar, North Korea. So many politically unconnected Nork men are so weak and stunted from endemic malnutrition, that the Socialist Workers' Paradise has to draft girls from the better-fed nomenklatura. A young North Korean (of either sex) must be 142 cm (4'8″) to be accepted, down from 145 cm  (4′ 9″) in 2009. Nork female draftees must serve from three to six years; Nork male draftees must serve from 10 to 13 years depending on specialty. The average Nork is 9 or so cm shorter than his or her southern cousin: "bad luck" made manifest. It's so exciting that the USA may follow such enlightened provinces as North Korea and Lopez-era Paraguay down the bright sunlit path to a female draft.
For the "You Go Grrrll!" angle you can look in just about any paper, but this dog's breakfast of an article at Mother Jones collects most of the feminist dogma into one place. That women can't pick up wounded men the way they can each other? Doesn't matter because "standards will not be changed." That women will get pregnant and drop out to the mommy track at critical points in train-up? Doesn't matter because "time lost by women to pregnancy is the same or less than time lost by men to discipline problems." Eh, honey, combat units (especially SOF units) don't lose significant soldier time to discipline problems; you're comparing two dissimilar things, due to ignorance, bias, or (most likely) both. The writer also cites the opinion of CST members that the CSTs were a great success. Tip for reporters: ask the actual combatants saddled with those CSTs what they think.
The Washington Post's Michelle You Go Grrrl! Lee wrote a tendentious "fact-check" claiming that the USMC study of women in combat didn't find that their use in a long and thorough experiment "increased casualties." True insofar that the experiment was conducted in training, not actually in combat. Hey, nobody died in the whole study, so casualties are totally over. She also quibbles that since the wounded would still be wounded whether they were evacuated by male Marines or abandoned by female Marines, there was "no change" in the number of casualties. Technically, perhaps, that's true. What the study did find is that the typical male Marine who had to rely on the typical female Marine to evacuate his wounded body was not going anywhere. It was an inference from that that he was going to die. (You can't expect Michelle You Go Grrl! Lee to understand logic and inferences. After all, she's only a girl!) The study is here.
And it's not related to women, per se, but it's a close cousin, as the social engineering is strong in this one: the right of gay people to serve in the military being a done deal, an appeals court is considering granting them the right to pass on AIDS without telling their partners they're HIV positive. After all, some fine, progressive military lawyers don't want to harsh some gay guy's fabulous for him. The case is less about the specific facts and about the specific accused, than it is about the social engineering: even if the guy in this instance "wins," he's out on his ear with a Bad Conduct Discharge for other misconduct, so it will make no material difference to the appellant. It's just a chance for some military lawyers and judges (who are, but shouldn't be, lawyers) to do some social justice virtue signaling in the service of their one true aspect of godhead, the Great Buggernaut.
Why, in the darkest days of the US military, say, as the British assault crested the earthwork at Bunker Hill, no doubt the defenders' last thoughts as they were bayoneted were: if only we had some women here! As the Texans' very bones were chilled by the deguello sounding across the San Antonio scrubland, they realized that they were doomed because they didn't have a couple of female narcissistic careerist West Pointers (but we threepeat ourselves) to stack up against the thousands of Mexican regulars. And in the arduous retreat from the Chosin Reservoir in 1950, the lack of womens' collaborative touch really made it hell.  (Collaborative touch? You know, the one seen in every all-female workplace, and the kind you hear about when your lady friends and relatives tell you about their women bosses).
Why, beats there a military heart in the land that has never uttered this bald plea to Fate: "Can you not deliver unto me and my small unit, greater social engineering and more intense micromanagement"? Will no one rid us of this dread and dreary deficiency of female intuition and "collaborative touch"?
Into that great, vast chasm of yearning steps Ash Carter, but we can imagine, in our mind's eye, his followers: just what we needed. Thousands, nay millions, of suffragettes and feminists, marching in step.
In sensible shoes.