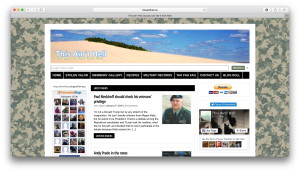 Jonn Lilyea's veterans' site, This Ain't Hell, isn't really a weapons site, but it's one of our first stops for checking on veterans' affairs, and one of the sites that still keeps the heat on veterans' impersonators and valor thieves.
If you see some drunken assclown claiming to be a Green Beret (what? You're a hat, dude?) chances are he's nothing such, like this assclown, and chances are good that Jonn and his writers have the goods on him — like that assclown.
It's not all valor-stealing aassclowns all the time (although we'll be returning to the bozo above in a bit). Sometimes there are "feel good stories" about criminals that have been given an opportunity to turn their lives around, like this Florida perv:
Our first stop this morning is the Hollywood Seminole Indian Reservation in Florida where a woman called the tribal police right before her housemate perforated the fellow she found peeking at her from her yard. According to the article the police took the peeper to the hospital to be treated for his six wounds.
Crime doesn't pay, does it? Perv.
By the way, the valor-stealing assclown mentioned above, before the perv, is currently under arrest for telling cops he was going to kill them. He is also running for President. Why not? Among other things he says he will…
fix k to 12 and higher egurcation
That's a relief. We had a feeling ergucation was broken.
Anyway, if you're a vet, you may like This Ain't Hell. If you're not… well, we'll have another W4 next week.