We like oddities, we like customs. But we'll be upfront: this is an acquired taste that we have not acquired:
This is… we are not making this up… a vampire-branded M1911. In the suitably already-interred 10mm caliber.
What better caliber for slaying the undead, than a caliber that's two graves down from the .357 Auto Mag? (The intervening grave? Jeff Cooper, the great exponent of the 10mm).
So 10mm it is. Presumably with silver bullets.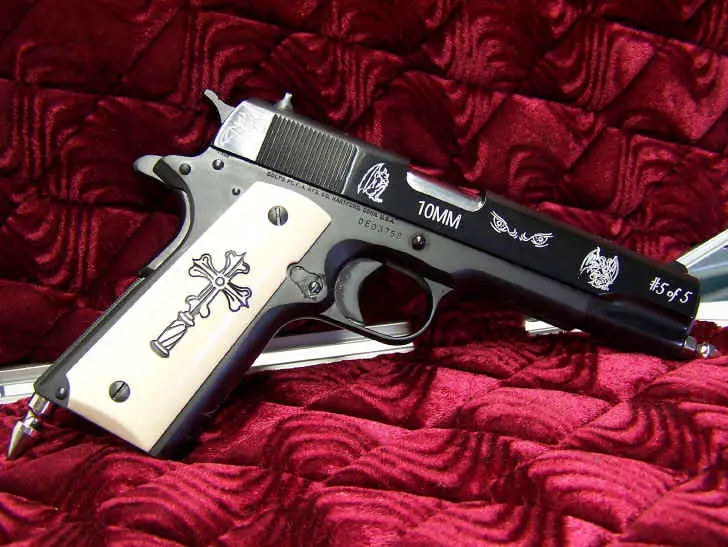 Naturally, Count Drac here comes with his own coffin:
We don't think even Owen Z. Pitt his ownself wants one of these. But if you are planning a Transylvanian hunt, or if you have to drive by Salem's Lot to get to your friendly local FFL, you can contact Reeder Custom Guns and still see if they have one of these Kase Reeder Vampyre Slayers on hand.
Reeder is an extremely prolific maker of custom 1911s and revolvers. Hunt around on his website and you can find some single-action revolvers he's built for Frank Beard of ZZ Top, the best traveling music ever for handling Texas distances.
(We're partial to baroque for handling New England twisties, and soothing us if some personal calamity has compelled us to engage with Boston traffic. But when the roads are straight, the car is hot, and distances are measured in six-packs, it must be Texas, and the playlist must be ZZ Top's Deguello).