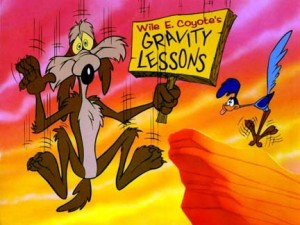 You know who lives at the bottom of the gravity well? If you don't respect Mr. G., the answer is a grim one: Darwin.
Police say 15-year old Natalya Jimenez and her friends were jumping from roof to roof in Hell's Kitchen. [a neighborhood in Manhattan, for those of us who live in the real world. -Ed.]

Police responded to a 911 call and found Natalya unresponsive and unconscious.

She was rushed to St. Luke's Hospital where she was pronounced dead.

"They took my baby girl, she was a good girl, she never got into trouble, she was happy, she was funny, she made everybody laugh," said Agatha Mangano, the victim's mother.
"They took?" Who's this they? The kid did something fatally stupid, and unlike her two friends, didn't get away with it.
Investigators say Jimenez was with two of her girlfriends, both 14 years old, who were jumping from building to building on 10th Avenue between 47th and 48th streets.

The openings between the buildings are about 4 feet wide.

"My daughter was afraid of heights; she'd never been on the roof here. She wouldn't even go on the fire escape, so I think foul play is involved and I want justice," Mangano said.
You've already got justice. Gravity is not just a good idea, it's The Law. What you want is not "justice," but someone else to blame and shriek at. Where's the justice in that?
Police say they were told by a resident to get down, and as they were leaving, the victim fell into an alleyway.
via 15-year old girl dies after falling from roof in Hell's Kitchen | abc7ny.com.
Fun fact: more falls occur on the way down than on the way up, whether you're talking about the cellar stairs, a ladder, or Mount McKinley.
"The two girls who were with her, they were crying, they were blaming each other and crying like, 'Oh it's my fault, it's my fault,'" [witness Jessica] Soto said.
Well, it's really the fault of the deader herself, but having those two idiots feel miserable about it may serve a valuable purpose.
Gravity is serious. One way or another, it will have your respect.