Sure, you have to go out. The flip side of that old Coast Guard saying is: "…you don't necessarily have to come back." Rescue Swimmer Darren Harrity went out and came back and did it over and over again to rescue four fishermen whose boat was hard aground in pounding waves. This picture shows it the next day, wrecked along the shore, but the night of the rescue — it's always at night, isn't it? — the men were in a lifeboat 250 yards offshore, through pounding waves and treacherous rocks, from dry land.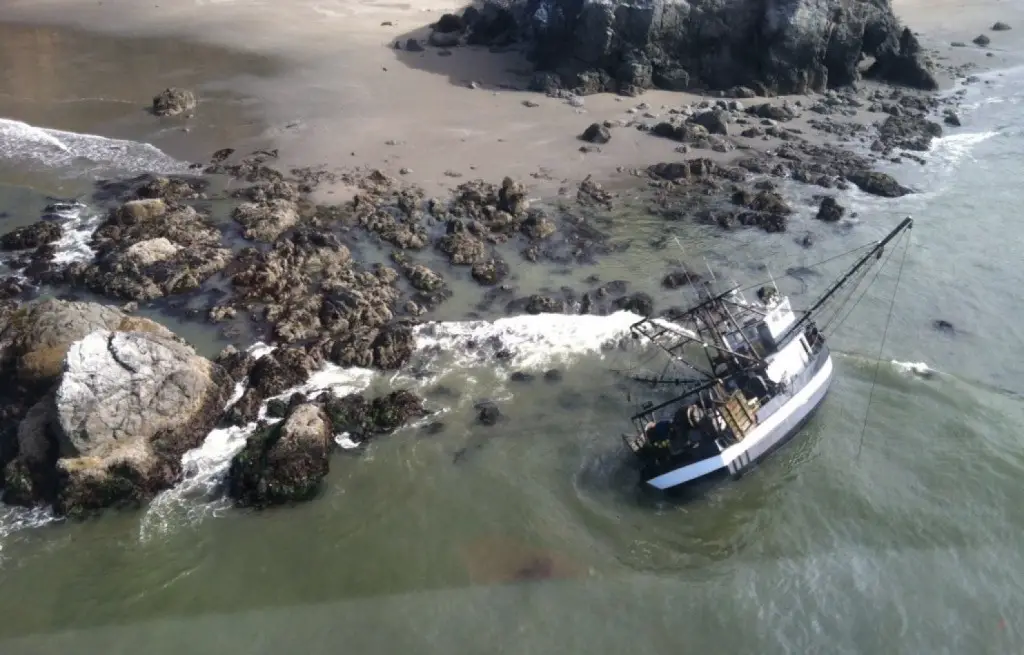 The USCG shot video of the rescue.
The Coast Goard MH-65 Dolphin helicopter took off from Coast Guard Station North Bend, about 60 miles north of Cape Blanco on the Pacific. It arrived at the scene fine, and began what seemed at first like a standard rescue, lowering Petty Officer 2nd Class Darren Harrity carefully into the water.

But then something went wrong and they couldn't get the hoist back up. "A mechanical failure," Chief Petty Officer David Mosley, a Coast Guard spokesman in Seattle told The Post.

"I think the pilot said, 'Harrity, you're going to be doing a lot of swimming tonight," Harrity told KPTV.

And he did.

He swam 250 yards over to the lifeboat, said Mosley, in five-foot waves, water already slick with fuel, the air thick with fuel.

He got the first man to leave the life raft, grabbed him with one arm, and with the other and the aid of his fins, swam 250 yards back to shore.
Commercial fishing is one of the most hazardous jobs in the USA, maybe the world. It would be more hazardous yet if it wasn't for Harrity and men like him.
And while it's nice to have all the high-speed, low-drag gear, it's still only stuff. And stuff breaks. When stuff breaks, unbreakable people take up the slack.
Then he swam back to the lifeboat, another 250 yards, grabbed the second fisherman and hauled him back to shore.

Then it was back to the lifeboat, another 250 yards, and back to shore with the third man. Then he returned to the lifeboat, yet another 250 yards to get the fourth fisherman, and safely returned him to shore.

Only then did he stop swimming.

"It was just me and my muscles and that's it," Harrity told the TV station.
via A 'monumental' rescue: Coast Guardsman swims a mile in choppy seas to save four fishermen, one at a time – The Washington Post.
As the Post notes, Harrity was this close to not becoming a rescue swimmer, a lifelong dream. He had a dangerous blackout in training and his heart stopped, but he lived (obviously), and he was, in the end, medically cleared. (The phenomenon of shallow water blackout is incompletely understood, and victims are often prime athletes like Harrity).
This is what the Jamie K looked like before running aground.
It's also notable that the crew did all the right things that helped them get rescued (well, apart from running aground. There is that). They made an early decision to abandon ship and got out a distress call with an accurate location. They got in the lifeboat together, and they apparently had survival gear (drysuits, etc). Speaking as a guy who has been rescued by the Coast Guard (although we were in swimming distance from shore on a warm day, and they even helped us save the boat, so it was nothing like the harrowing experience these fishermen just went through), it's a lot easier to get rescued when you don't fight the Coast Guard and give them every opportunity to do their thing — which they tend to be pretty good at.
Skipper Jake Leach and the three hands aboard her might be missing their boat today — but their families aren't missing them.  Swimming a mile is not big deal — the way we do it, in laps in a nice heated pool. Swimming a mile in the cold, choppy Pacific, while dragging one guy or another for approximately half that distance, that is a big deal. Well played, swimmer.
We bet the crew chief has even figured out why his winch went down when he needed it. And he's not going to have that happen again (in the meantime, he should be buying Harrity's beers for the next approximately forever).