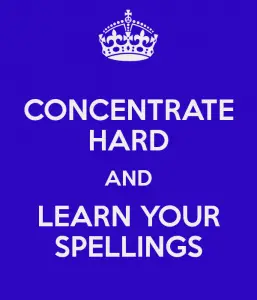 Spellng? Yes. Spelling. We're taking this Sunday morning as a flimsy excuse to go off topic and off the reservation, and say a few words about the utility of proper English orthography and such ancillary arts as grammar and composition. Which are actually three different things, but they have one thing in common: young people are not learning them.
Whether you blame video games, unionized teachers, indulgent parents, tee ball and participation trophies, or the temper of the times, if you have any exposure to today's teens and twenty-somethings you have had more examples of horrid English language expression before you than you care to remember.
The event that occasioned these thoughts was a recent entrepreneurship competition, in which your humble blogger was one of a panel of judges. It goes like this:
Undergraduates at a small state university, which caters to lower-middle-class strivers (often the first in their family's entire history to attend college), take a single course in entrepreneurship, which is quite new.
The class is taught by two smart professors, who do not have a business background. (One of them is one of the most natively-intelligent people I've ever met, I think).
The students come up with an idea if they can, and present it to a panel of judges and to the non-voting retired CEO who initially sponsored the contest, first by writing and then in a personal presentation.
The judges score the students' planned businesses on several axes: Idea (originality/scalability, etc); Viability (Practicality, likely ROI, etc); Research (did they do their homework on market, competition, financials?); and, Presentation (did it "pop"? Do they think on their feet? Etc.).
Four cash prizes are awarded. All entrepreneur cubs get an encouraging call from the CEO. The judges (themselves all business people with startup experience) and the professors put their heads together on how it can be better next time. Rinse and repeat.
We were ill-prepared this year, and discovered on the morning of that we'd left key parts of business dress 1,500 miles from home at Hogney World. So an old pair of never-worn almost dressy dark-soled Topsiders were found in the closet and the other missing items were bought when stores opened. The shoes were a matter of trepidation — it's hard to find things you can stuff 9EEEE paddle feet into without problems, and usually we stick to Clark for dress and New Balance for casual — but they worked fine.
But the written presentations — Gah, what a collection of disasters. In our draft of this post we originally put a couple of samples here, but we took them out lest we crush the poor little dears when they stumble upon their own words — the Intertubes may not be forever, but so far that they bid fair to outlast Ozymandias's statuary. Suffice it to say that spelling, verb-subject agreement, pronoun use, paragraphing, capitalization, everything involved in effective written communication was as wrong as a pedophile's picture album.
None of these young folk's works was really good, although there were some gradations of awful. They were like the Five Lee Sisters: Ug, Home, Ghast, Beast and Gnar. Not one but two packets suffered from an absolutely gobsmacking deficiency: the spelling or the name of the business itself was not consistent internally in the document. As it was, it was sad.
One of the best-written presentations of an idea, which was still substandard, came from a young man who's not a native English speaker. That's twice as sad.
And the ideas? For a contest intended to produce the next big idea, they were… small. The best presented of all was an idea for a food truck. Not a food truck franchising operation: One. Food. Truck. A couple more were clear attempts at turning hobbies into employment.
On the plus side, there weren't any apps this year. Last year everybody had an app… but their spelling was better.
We mentioned this to the profs and to the administrators at the U (there's one gal in administration who's key to this whole event happening, a vital connector between the business and admin world). And the profs told us, in some despair, that, "That's the way kids are today." Sheesh. But they're telling the truth; one of them has tried to enforce some kind of spelling and grammar on her undergraduates, and has been savaged for it on RateMyProfessors.com.
The judges normally have a conference call to shortlist the packets for presentation. If we were grading these the way VCs would, they'd all go to the shredder unanswered: they were that bad. On the other hand, these were undergraduates. We also remembered that, in the past, there wasn't a strong correlation between the quality of the written packet and the quality of the presentation. So on all eight of them went to present in an auditorium on campus, in front of a shark tank of real entrepreneurs.
Fortunately, the oral presentations were all stronger than the writtens. And, perhaps because of the efforts of those hard-working professors,  their presentation slides had been purged of any typos or misspellings, and everybody's business naming was consistent.
Well, the purpose of a University is education, isn't it? Perhaps we're helping. But Great Googly Moogly, those written presentations.
Monday, we'll be back to the usual topics. Later today, we'll post and backdate a Saturday Matinee (yeah, we said that last week, but only had time to watch half the movie. We suppose we could review them without watching them, like the guy at The New Republic. But we figure you guys deserve a higher level of discourse than that).
UPDATE
It has nothing to do with spelling, but the frustration of this Texas A&M branch campus professor is just one more indicator of the college bubble. Our neighbor's two sweet, pretty young graduate daughters who are absolutely unemployable with degrees in womens' studies and nonprofit management is another such sign.