These days, with Cuba in the news and our President bowing and scraping to los hermanos pollos Castros, is a good time to reflect on the arms of the Cuban Revolution. A recent biography of one of the many tragic figures of the war, Comandante Americano William Morgan, contained a few brief paragraphs about a homemade gun, the "Cuban Winchester."
One night, [former Second Front training officer Regino] Camacho came over to Morgan, and the two began talking. The other rebels watched as the two huddled over an old Winchester, piecing together the parts to put it back together. They had patched up their differences.

By the morning, the two had devised a homemade assault rifle. Using the frame of a 1907 Winchester and combining it with other parts, they created a base so the gun could fire with interchangeable barrels, depending on what ammo was available. They called it the Cuban Winchester.
This book (The Yankee Comandante by Michael Sallah and Mitch Weiss) does have different details from other sources, but the authors have made scant attempt to document their sourcing, and no source at all is given for this. On top of that, Sallah and Weiss clearly have no interest in or understanding of firearms; a picture showing Comandante Morgan posing with his rebel girlfriend describes their arms, an M1 Thompson and an M1 Carbine, as "assault rifles." But it interested us enough to track down other references to the Cuban Winchester, such as they are, and to tentatively conclude that the gun was a one-off for propaganda purposes.
We were able to find a video online from which we've taken some stills of the actual weapon. The actual video is embedded near the end of this post. (The images do embiggen but they're originally pretty grainy scans from halftone, from Guns magazine in October, 1959[.pdf]).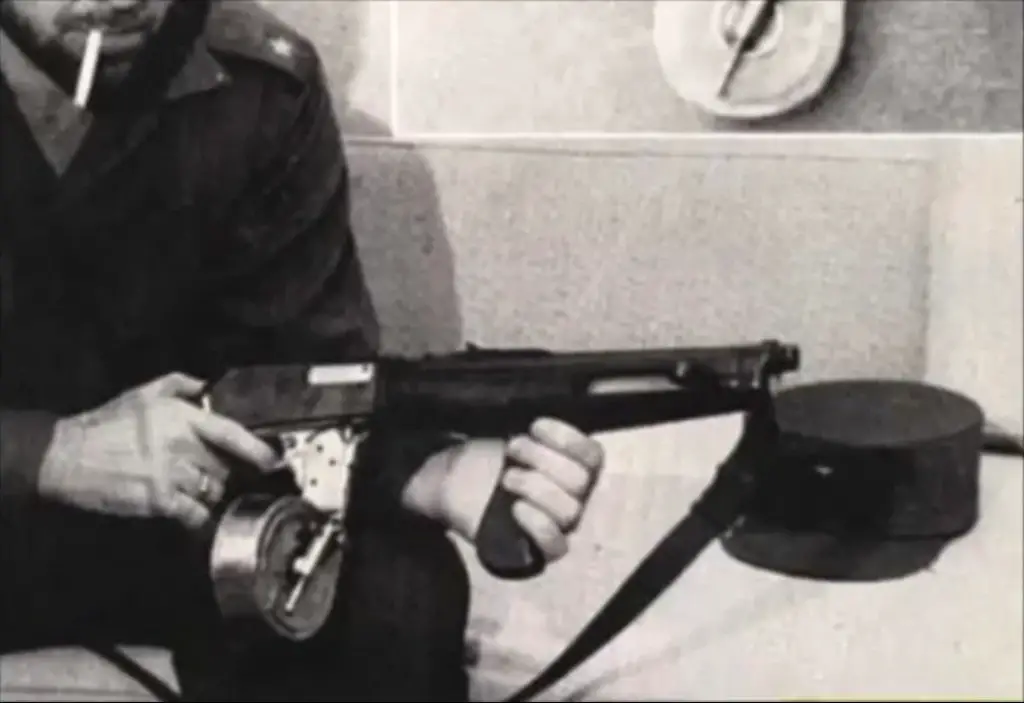 Remembering something about this, we hit the Unconventional Warfare Operations Research Library, and in its needs-better-organized 3,000+ volume stacks, we found the following in Robert K. Brown's Merc: American Soldiers of Fortune from the 1980s:
As Morgan later related in an interview with author Brown: "The Cuban Army periodically sent out two thousand to three thousand troops in offensive thrusts into the mountains to hunt us down and destroy our small bands. We were always outnumbered at least thirty to one. Some twenty or thirty of us would stay on the soldiers' backs; we wouldn't let them alone. As soon as one group would break off another would take up the attack. That was how we had to fight. Why? We needed the guns."

Weapons were indeed a problem. The 26 July Movement was getting most of the foreign support going to the Cuban revolutionaries. Their public-relations personnel and contacts in the United States were better than any other group at the time. Even when weapons were shipped to the Second Front, Castro's men frequently managed to intercept them.

Morgan found an experienced gunsmith who had seen action in the Spanish Civil War and in a number of South American revolutions and intrigues. Captain Camacho, as he was called, scrounged up welding equipment, lathes, and a forge, to set up the revolution's army. He invented unique, effective weapons to compensate for the guerrillas' shortfall, making them out of parts available or captured locally. An inventive genius, one of his more widely known items was called the "Cuban-Winchester" by those who used it. He used the frame of a .44 lever action Winchester rifle produced in the 1890s and combined it with parts from Winchester semi-automatic rifles, M-1 Garand rifles, and a few handmade parts. He reamed out his own barrels and, depending on what ammo was available locally, the user could select .45 ACP, U.S. .30 carbine, or 9mm caliber by switching barrels. The weapon could utilize many different types of pistol magazines, including the efficient Luger 32-round "snail drum."

Morgan reported that this gun bad limited accuracy, but was highly regarded due to its firepower. He himself preferred British 9mm submachine guns, due to their light weight and the light weight of the 9mm ammo. During the guerrilla experiences, he noted the difference a heavier gun and ammo made when trying to move fast and far.
Morgan's interview with Brown was previously used in a brief Guns Magazine report in October, 1959 (p. 17); Guns has put the entire issue online (.pdf), and here is the story:
THEY "'ROLLED THEIR OWN" IN CUBA

CUBAN CHOPPER WAS ASSEMBLY OF WINCHESTER RIFLE. M-l CARBINE. AND HAND-MADE PARTS IN THREE OPTIONAL CALIBERS.

PRODUCT OF CUBAN ingenuity and Yankee drive is the "Cuban Winchester," emergency weapon of the revolution. Commandante William Morgan, an American fighting with the Revolutionary Army, thought up the idea in searching for greater firepower. Together with Captain Camacho, grizzled old gunsmith who had fought in the Spanish Civil War, the recent Venezuelan fracas and other South American scrapes, they put together 10 of the conglomerate arms pictured — prize creation of Camacho's machine shop in the hills which also turned out grenades, machine guns, home-made cannon and anti-tank mines. It took three or four men about two weeks to complete one gun. In this little gem, the slide. recoil and trigger mechanism are a blending of M-l Carbine and handmade parts inside a Winchester .351 Self-Loading frame. The stock is whittled out by hand. Rebored interchangeable barrels allowed Morgan's men to fire .45, 9mm, or .30 Carbine ammo, depending on what was for supper that night. Ammo capacity depended on the type of magazine used: either altered Star pistol clips or a drum.

According to Morgan, the short barrel length limited accuracy to "about 25 yards. However, it threw enough lead to allow us to even up the odds a little, as well as give confidence to the men," the 30-year old ex-paratrooper told me. "Morgan's combat experience included a world wide assortment of weapons, but he prefers the British Sten or improved Sterling submachine guns. He described the British weapons as having less recoil and weight yet a greater effective range than the American Thompson or M3 grease gun. "Furthermore," he emphasized, "weight difference between 9 mm ammo and .45 makes a hell of a difference in favor of the 9mm when you're off on a 40 mile hike in the Cuban backwoods."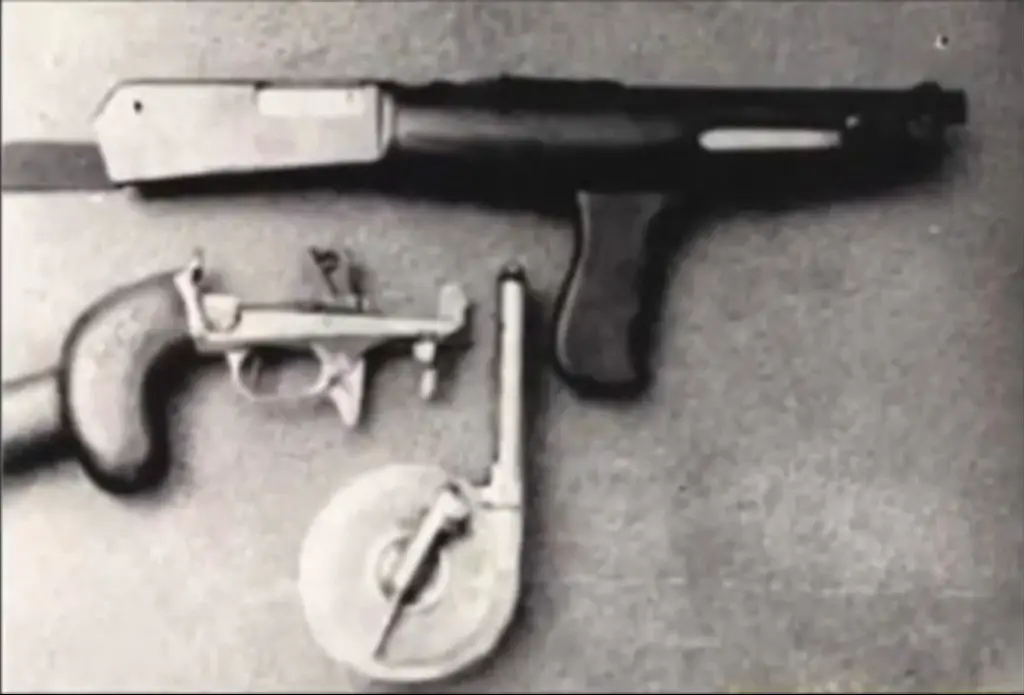 The gun is also mentioned, briefly, in Aran Shetterly's The Americano: Fighting with Castro for Cuba's Freedom, another bio of Morgan. Shetterly describes Morgan (pp. 160-161) as
[P]osing with a "Cuban Winchester" (a regular bolt-and-lever Winchester rifle that the weapons doctor, Regino Camacho, had turned into a semiautomatic).
Previously, Shetterly introduced Camacho (p. 56):
 Like young baseball players being handed their first uniforms, bats, and gloves, Menoyo's men thrilled at the sight of the shipment of arms. It was an odd assortment of weapons from shady dealers and pawnshops from Miami to New Jersey. There were 50 Italian carbines, a Thompson submachine gun and two English Stens that could fire 550 rounds per minute, two Springfield rifles, a Garand, five Remington semi-automatic rifles, one M1 and two M3's, carbines, and thousands of rounds of munition [sic]. Menoyo handled the Sten to Morgan, knowing that he was one of the few men in the group who could handle a submachine gun.

In addition to the weapons, there were tents, uniforms, knapsacks, lanterns, and other essential tools and supplies, including a few old military helmets. One of these was a big, heavy Nazi helmet that a pawnshop proprietor had tossed in with the guns. Only one young man, a country boy named Publio, had a head big enough to wear it – and he did.

Every piece of hand-me-down war refuse would find a home. The weapons that didn't work would be investigated and retooled by a bespectacled Spanish machinist named Regino Camacho. Camacho could turn a rifle into a submachine gun, or fit the clip of an American repeating rifle into the equivalent Italian firearm.
The single "Cuban Winchester" ever seen in photos appears to have been made from a .351 Winchester 1907 semiauto, based on the photos, not a lever action. This was a simple blowback design, meant to be a less expensive competitor to Remington's expensive Browning-designed Model 8. It is fitted with a new stock including a pistol grip, a new forearm with the operating handle relocated to the right side, a cut-down barrel, and a strange drum magazine made from the drum of a 1st Model Luger TM.08 "snail" drum, and the body of a straight magazine of some kind.
The weapon is claimed to have been made in a quantity of 10, but Morgan's Second Front were excellent propagandists and poor narrators, so all we know for sure is that one was made. No image shows more than a single firearm.
Moreover, no picture we have shows more than one single firearm or any variation that suggests more than one existed. In addition, no photo shows anything that might be the interchangeable barrel mechanism, and all pictures appear to show the same 1st Model TM.08 snail drum, a unit that was designed for the 9mm cartridge and would not adapt well to some of the rounds claimed for the "Cuban Winchester."
Is this, perhaps, a propaganda weapon designed to promote the 2nd Front? Or, perhaps, even, to conceal the 2nd Front's actual weapons sources? Did it even function? In some details it resembles the gangster specials of the 1930s, like the Hyman Lebman guns made for the Dillinger gang, as recounted here in 2013.
A tragic figure, Morgan was a subordinate leader to Eloy Gutierrez Menoyo in something called the Second Front of the Escambray, a revolutionary group whose opposition to Batista was grounded in Enlightenment republican thought and values, as opposed to the Movimiento 26º de Julio whose values were those of Marxism-Leninism. They quickly came into opposition with the dominant Communists after the Revolution, and tried to play double-agents between the Communist Castro brothers and Che on the one hand, and the staunchly anticommunist Dominican dictator, Rafael Trujillo. Morgan and Menoyo had been betrayed by the US Ambassador, who at the time was operating under the sway of Castro's and Che's ostensible charisma. Not knowing whether or not they could trust Morgan, Castro and Che solved the problem their usual way, having Morgan shot after their victory. His wife was allowed to emigrate to the United States in the Mariel boatlift. Menoyo escaped to the USA, but would be betrayed on a later mission to Cuba and spend decades in prison.
Despite Morgan's boast to Brown of being an "ex-paratrooper," he was no such thing. Morgan was an Army veteran, but as if often the case among would-be mercenaries, he was a failure as a soldier, earning only a dishonorable discharge. The state of Cuban guerrilla training in the late 1950s was such that even such an undistinguished and brief career made him a one-eyed man in the kingdom of the blind.
None of these books is entirely trustworthy about Morgan. The Brown book lapses into mercenary fandom, and the new biography, written by two Toledo Blade journalists, commits the usual journalistic sins; true to newsroom culture, they don't let themselves be distracted from good storytelling by a meaningless quest for accuracy. For example, while there are multiple legends of such things as Morgan's death, the narrative-happy journos pick the one that most serves their narrative arc, and don't even inform their readers that there are others.
Here is the video, from JMantime, whose channel has a lot of weapons-related content. We're not aware of any photos of the Cuban Winchester other than the handful in this video, which were all in Brown's Guns magazine article.
Sources:
Brown, Robert K., and Mallin, Jay. Merc: American Soldiers of Fortune. New York: McMillan, 1979.
Sallah, Michael, and Weiss, Mitch. The Yankee Comandante: The Untold Story of Courage, Passion, and One American's Fight to Liberate Cuba. Guilford, CT: Lyons Press, 2015.
Shetterly, Aran. The Americano: Fighting with Castro for Cuba's Freedom. Chapel Hill, NC: Algonquin Books, 2007.
Apart from the sources listed above and linked in the article, there's a trove of Morgan-related material at LatinAmericanStudies.org, including a good bit of primary source material, and many of the Toledo Blade stories that were fleshed out into Sallah and Weiss's book. Retrieve from: http://www.latinamericanstudies.org/morgan/