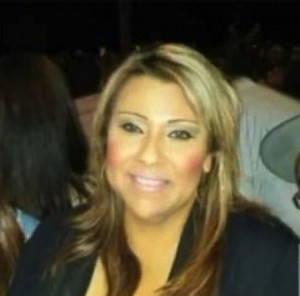 This lady is Elizabeth Yanez, 42. Or, we should say, was Elizabeth Yanez, who is now no longer with us, or more to the point, with her Whitter, California family. Why not? Because two LA scumbags felt entitled to a parking spot and savaged her with a knife.
We first saw the story at the Las Vegas Review-Journal. The R-J had a bare-facts report:
The woman's son told KTLA the argument over a parking spot escalated until a man got out of his car and stabbed the woman, 42-year-old Elizabeth Yanez, multiple times in her neck and back. Yanez was taken to the hospital, where she later died.

Reggie Cervantes, 22, and Brenda Rangel, 19, are being held on murder charges in lieu of $1 million bail.
via Mom killed in front of her children over parking spot | Las Vegas Review-Journal.
We found the story at KTLA, which had much more detail. She was murdered in front of her two adult children, and the murderers fled the scene. And both the man and woman — Cervantes and Rangel — stabbed her in the neck, and as she turned away, back. She was transported to the University of California at Irvine Medical Center, where she died of her wounds.
Officers responding to a report of a fight in the parking lot, found Elizabeth Yanez lying on the ground with multiple stab wounds to her neck and back, according to a news release from the Whittier Police Department.

The 43-year-old mother of two was transported to UCI Medical Center where she later died.

Her adult children, who witnessed the attack, said their mother had been stabbed by a man and woman over a parking space.

"It escalated," son Daniel Crable said. "It went from one to 10 in a matter of seconds. The next thing you know this man is out of his car."

Detectives were able to get fingerprints from the victim's car which led to the arrests of Reggie Cervantes, 22, and Brenda Rangel, 19, in South Los Angeles.
Note that the cops got a hit on the prints the murderers left on the car. Stop and think about that for a minute: why did they get that hit? Because the murderers, Cervantes and Rangel, were "in the system" — career criminals already at 22 and 19.
Now, they're not going to murder anyone for a while, even in California.
Guns don't kill people. People like Cervantes and Rangel kill people. Sometimes they do use guns. But a knife is a deadly weapon available to anybody. You're probably sitting within seconds of holding one right now. So why aren't you stabbing people over parking places?
Tentative conclusion: you're not like Cervantes and Rangel.