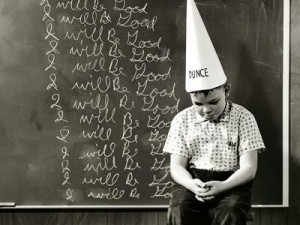 The human race never fails to astound us in its perpetuation, despite the existence of large numbers of people with the terminal dumbs. Life, after all, is an ongoing IQ test, and humans have come up with an incredible range of ways to fail at it. But one news story says that whole populations are getting dumber:
IQs have largely increased since the 1930s thanks to better living conditions and education – a trend known as the Flynn effect. But IQ test results suggest people in the UK, Denmark and Australia have become less intelligent in the past decade.

Opinion is divided as to whether the downwards trend is long-term. Some studies have shown the average IQ of Westerners has plunged 10 points or more since Victorian times and others claim it will keep decreasing. But other experts argue that even if we are becoming more stupid, better healthcare and technology means the 'problem' will regulate itself.
via Are we becoming more STUPID? IQ scores are decreasing | Mail Online.
Maybe it's just the triumph of the Neanderthal genes in us. That's been in the news, too, lately.
But maybe the original populations are still getting smarter — but smaller, relative to the whole. And a new generation of immigrants is responsible for this turn on Flynn. Maybe the three nations in question are undergoing a demographic shift that is depressing national IQs, given that different populations have different mean IQs and that each individual population appears to have an IQ distribution centered about the mean in a bell-shaped normal curve.
Data points: Most common boy's name for newborns in the UK is Mohammed. Arab IQs are about 1 SD (10-15 points) below the Eurasian mean (~100). South Asian IQs are not as depressed, but they are still depressed relatively to European or East Asian IQs (most Moslems born in Britain are descended from South Asians).
A generation where many youths have no prospect beyond government or protected clerical and menial work, or the dole, and who lack the impulse control thad keeps higher-IQ people away from violence and crime. What could possibly go wrong? Will declining mean IQ be the cause of a coming dystopia, or merely a comorbid condition?