Well, we goys PFO thought we'd throw our cousins of the 12 Tribes a bone here and publicize their auction. They're selling a shotgun that JPFO founder Aaron Zelman had made many years ago. Not our cup of tea around here, but if you like it, go forth and bid.
This one-of-a-kind commemorative shotgun proudly hung in JPFO headquarters for many years. We are now putting it up for auction to raise funds for future projects.
Description: Mossberg Model #500A 12-gage pump action shotgun with 18-1/2″ cylinder bore barrel. Accepts 2-3/4″ and 3″ shells. The stock is engraved with the words:
AMERICANS USED RIFLES TO OVERTHROW
BRUTAL LOCAL POLITICIANS AND
TO ENSURE HONEST ELECTIONS.
BATTLE OF ATHENS
TENNESSEE AUGUST 2, 1946
The receiver is engraved with the old-style JPFO logo and the words JEWS FOR THE PRESERVATION OF FIREARMS OWNERSHIP.
The other side is marked with another reference to the Battle of Athens: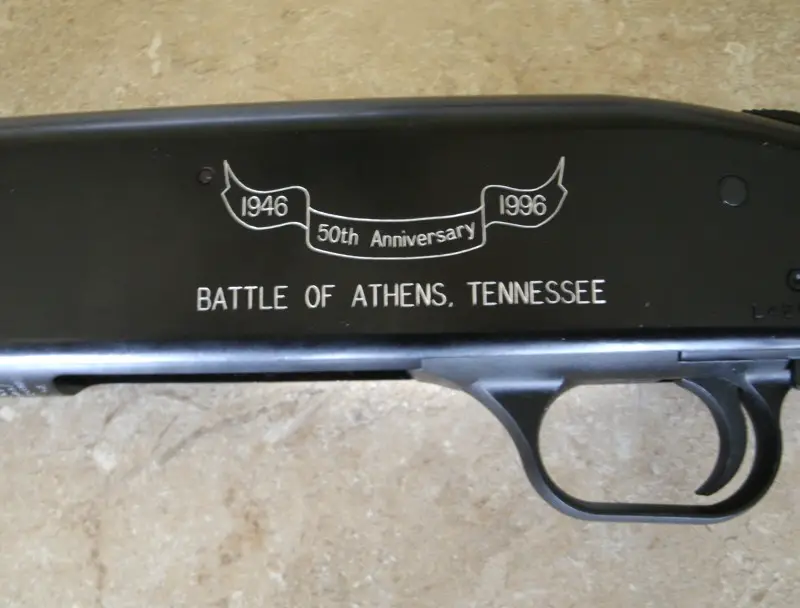 The Battle of Athens took place when a corrupt local government used vote fraud to stay in power — or tried to. They were overturned by force, by an ad hoc militia made up of local men who had returned from WWII and were not expecting to find their home town run by the exact sort of tyranny they'd just defeated worldwide.
An FFL Dealer has appraised this shotgun at 95% of new condition. We are offering it "as is", with no sling, gun case, or original box.
BONUS: The winner of this auction will also receive Aaron's own personal copy of the now out-of-print hardbound book on the Battle of Athens, autographed by author C. Stephen Byrum and dated 9/26/1994
Bidding: Bidding begins at $500 and will close August 12, 2014 at noon EDT. This is a no-reserve auction. Whoever holds the high bid as of the end of the auction will be the winner, prior to which the checkout should be ignored. Bids must be in increments of $10 or more.
via BiddingOwl – Jews For The Preservation of Firearms Ownership Auction.
If they were really thinking hard about it, they'd have had the auction end on the anniversary of the Battle.
If you've heard of the Battle of Athens, but don't know the details, this article in American Heritage will stir your pride in our American fighting men, who engage enemies foreign and domestic equally.
During the Civil War, deep from within secessionist territory, McMinn County had sided with the Union; in 1898 she had declared war on Spain two weeks before Washington got around to it. How could Cantrell have such undisputed control over a county noted for its independent and cantankerous spirit? One answer lies in the Second World War: 3,526 young men, or about 10 percent of McMinn's population, went off to fight. Most of those left behind—older and perhaps more timid—contributed to the Cantrell machine's growth by remaining silent. Still, as the war dragged on, people began to tell each other, "Wait until the GIs get back—things will be different."

In the summer of 1945 veterans began returning home; by 1946 the streets of Athens overflowed with uniforms. The Cantrell forces were not worried.
It came down, ultimately, to the combat vets versus the deputies who'd stayed home on bogus 4F deferments — with rifles and dynamite. The press, naturally, got it wrong:
At dawn the veterans slipped from the jail, made their way through the detritus of the battle, and dispersed into what they hoped would be anonymity. Miraculously there had been no deaths. But on August 2 a page-one headline in The New York Times wrongly trumpeted the news: TENNESSEE SHERIFF is SLAIN IN PRIMARY DAY VIOLENCE . All day long reporters with cameras and notebooks poured into town to photograph, question, analyze, and write.

The national press was almost unanimous in condemning the action of the GIs. In an editorial perhaps best reflecting the ambivalence of a startled nation, The New York Times concluded: "Corruption, when and where it exists, demands reform, and even in the most corrupt and boss-ridden communities, there are peaceful means by which reform can be achieved. But there is no substitute, in a democracy, for orderly process." The syndicated columnist Robert C. Ruark commented: "There is very little difference, essentially, between a vigilante and a member of a lynch mob, and if we are seeking an answer to crooked politics, the one that the Athens boys just propounded sure ain't it." Commonweal cautiously compared the battle to the American Revolution, then went on to say that "nothing could be more dangerous both for our liberties and our welfare than the making of the McMinn County Revolution into a habit."
Actually there was one death, a black man named Gillespie, backshot by one of the political machine's deputies, one Windy Wise. Wise would do time (although not enough) for the murder. Three of the deputies, including Wise, were seriously injured.
The American Heritage article is really good; Read The Whole Thing™. And if you want a one-off shotgun commemorating that remarkable night in 1946, well, bid away!