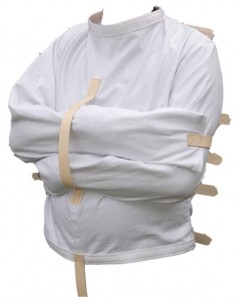 So, from the time you're committed to the VA booby hatch, how long should you have to wait for your psychiatric evaluation? According to the VA, seven or eight years is cool. We are not making that up:
A veteran admitted to a long-term VA mental health care facility in Massachusetts waited eight years for his first comprehensive psychiatric evaluation by staff.

Another patient with a 100 percent service-connected psychiatric condition was committed at the same Brockton facility for seven years before a single psychiatric note was placed on his medical chart.
Now that we think about it, we were referred the VA by a reserve component for a cardiac evaluation, while working up for deployment in late 2001 or early 02, and went to the physical-health side of that same Brockton facility. (There was no available military medical facility in New England). Neither the facility nor the staff impressed, at least, not positively. The VA had the EKG read by a dermatologist, whose error caused thousands of dollars in unnecessary tests. But at least we weren't stowed in a booby hatch untended for seven or eight years.
The cases are among dozens of incidents whistleblowers in the Department of Veterans Affairs have reported out of concern for patients' safety but the VA has failed to take the incidents seriously, or admit they might affect the quality of treatment in its nationwide system of hospitals and clinics, according to a letter sent to President Barack Obama on Monday by the U.S. Office of Special Counsel.

The VA has instead claimed such incidents were "harmless errors," according to the OSC, an independent federal watchdog charged with protecting whistleblowers and fielding complaints.
What do you say to this: let's lock every SES manager at VA up for seven or eight years. Maybe we're right and maybe we're wrong, but by their own reckoning, it's a "harmless error," right?
"This approach has prevented the VA from acknowledging the severity of systemic problems and from taking the necessary steps to provide quality care to veterans," according to the letter by Carolyn Lerner, head of the OSC. "As a result, veterans' health and safety has been unnecessarily put at risk."
This is one where you do want to Read The Whole Thing™, because the neglected nut-hatch inmates are only one of the VA's many misdeeds documented by the OSC.
If you're not a veteran, don't worry: this same government health care is coming your way sooner or later, all in the name of Progress.
The OSC letter implicates the VA's Office of the Medical Inspector, which oversees quality of care, in the widening scandal over dysfunction in the department.

"…OMI does not feel that their patient's rights were violated," Lerner wrote in the letter.

The OSC now has 50 pending VA whistleblower cases alleging threats to patient health or safety and 29 have already been referred to the VA for investigation. The department has been generating an outsized number of complaints to OSC — over 25 percent of all cases coming from the federal government, Lerner noted. …

Lerner said the VA has substantiated whistleblower claims in case after case but then decided there was no wrongdoing or threat to veterans…
Again, Read The Whole Thing™. Amazing. (In a depressing way). One small agency, and one-quarter of the entire Leviathan's whistleblower complaints — and yet, none of the whistleblower complaints have been taken seriously, when even the VA admits they're true.
VA's Acting Secretary Sloan Gibson, who has already promised all VA employees that no wrongdoing will have consequences for them, is paying lip service to acting on the OSC report. You know what to expect from him — nothing.
(Note — this post introduces a new (and overdue) organizational category — Veterans' Issues. -Ed.)