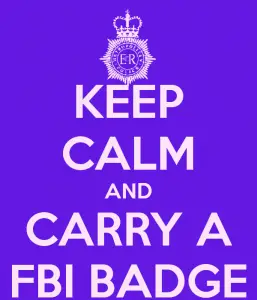 Ibragim Todashev, a buddy of Boston Marathon bomber and certified Islamic crazy Tamerlan "Speedbump" Tsarnayev, was shot dead by FBI Agent Aaron McFarlane, 41, in Orlando. The Bureau immediately ruled it a good shooting, then investigated and confirmed their initial decision.
But before he swore an oath as a Special Agent, Aaron McFarlane had a terrible record as an Oakland, CA cop. Reason reports:
The Globe reports that while in Oakland, McFarlane was the target of two police brutality lawsuits (costing Oakland at least $32,500 in settlements), four internal affairs investigations, and once plead the Fifth during a police corruption trial in which prosecutors accused him of falsifying police reports. All this, mind you, in four years. McFarlane went on to collect a $52,000 a year pension after "retiring" ten years ago at 31.

He was hired by the FBI five years ago, but continues to collect a pension, which he is promised for life. McFarlane was employed with the Oakland Police Department while it was embroiled in the largest corruption scandal in its history, one which cost the city $10 million and for which the department is still under federal oversight. He is the son of a former police officer.

When Oakland pays their police officers a higher pension than the median household income in the U.S., it shouldn't be surprising they're in a fiscal mess. Occupy Oakland has spent the last few years instead blaming capitalism for the city's problems.
They're citing this article in the Boston Globe, a paper that's probably interested because McFarlane is an agent in the Boston field office. The article contains several other bombshells, including that McFarlane took the Fifth in a corruption investigation in Oakland.
Sure, it's his right to take the fifth, and no one is supposed to draw any inferences from that.
Like the inference that, "This guy might not be an ideal candidate for the job of Special Agent of the FBI." They sure didn't draw that inference. Or the inference that he had something to hide. Or the inference that public servants ought to be concerned about appearing to have integrity at all times and in all places.
You have to wonder how many other FBI SA's have so little integrity that they're riding a disability from some other cop job.