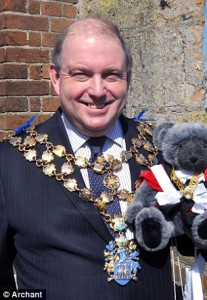 In far-off Anglestan, where guns are outlawed and everyone has moved on to the bright sunlit uplands of a gun free zone world, there's always that 5% doesn't get the word. For example, there's the local politician who had the bad judgment to keep an empty old war trophy locked in a cupboard.
A Conservative former mayor and veteran army reservist has been dramatically arrested in an early-morning police raid and charged with owning a live 70-year-old Nazi wartime gun.

Officers with search dogs swooped on the home of Councillor Jonathan Farmer, 56, of Wisbech, Cambridgeshire, and seized a German Walther PPK pistol dating back to the Second World War.

Police said they were acting on a tip-off and had a warrant to search his home for firearms. He will appear in court next Monday and could face a five-year jail sentence if found guilty.

Farmer – whose wife Susanah is acting town clerk of Wisbech – has temporarily stepped down from helping to run the local army cadet force.
Yes, yes! You definitely don't want a man with a gun involved with the local Army cadet force.
He told the Fenland Citizen: 'It was given to me by a friend, mainly because his wife wanted it out of the house. I just kept it in a cupboard.

'When he gave it to me, he said not to fire it because it had been deactivated. He said it would blow my hand off, so I never did and I assumed it was pretty safe.

'But I suppose I shouldn't have kept it. It was a sentimental thing – and it's a beautiful piece of engineering. My life as it was has been pretty much eviscerated.'

The Walther PPK handgun was a gift to the bomb disposal expert from a British veteran of the Battle of Monte Cassino in Italy in 1944.

The soldier took the deadly weapon, a much-treasured war souvenir, from a captured German officer, and Farmer – the former mayor of Wisbech – has owned it for 30 years.

Farmer was arrested on January 19, taken to a police station at Kings Lynn, Norfolk, and bailed.

Farmer served as mayor of Wisbech from 2008 to 2009 and is a member of both Tory-ruled Fenland District and Wisbech Town councils.
via Tory former mayor arrested 'for owning a Nazi pistol from Second World given to him as a gift' | Mail Online.
Now, to American ears, this British crusade against firearms of all kinds seems to be a bit excessive. At least they stopped doing it here after 1781, and what they do in their own backward little country is their own business, after all. But surely, this anti-gun policy, which has included a complete ban on handguns for almost 20 years, has had an effect in producing a crime free environment. Yes?
Well, there is this piece of evidence:
A man is in hospital after a 'drive-by' shooting where a gunman on a motorbike opened fire on a car as it crossed London's Waterloo Bridge.


The motorbike is thought to have pulled up alongside a black Ford Focus before a pillion passenger – sitting behind the driver – shot the driver through the window.

Armed police were called to the scene and the victim, believed to be aged 22, was taken to hospital.

 (Of course the British journalists are just as careful about the facts as their American peers: a photograph accompanying the article shows a Ford Focus identified as the victim's car. It's white. Maybe the reporter suffers from rare black-white color blindness).
Update:
Farmer faces trial on April 22, and is looking at five years in prison (BBC version of the same story). Sebastian calls it "destruction of history," and his comments noted that, appropriately enough for a Nazi gun, Farmer was turned in by a police informer, which is apparently a career option in modern Britain.