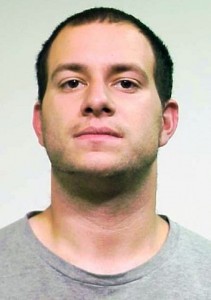 Ah, Chicongo.
The slug of the smug mugshot here, is waiting for trial there, on terrorism charges. He just earned himself another charge:
A New Hampshire man awaiting trial in Illinois on terrorism charges related to the NATO protests last year was reportedly charged with aggravated battery for allegedly squirting a Cook County correctional officer with a shampoo bottle filled with urine and feces.

Prosecutors said Saturday that Jared Chase, 29, of Keene N.H., attacked the officer from his jail cell on Oct. 4, according to a report from the Chicago Sun-Times.

Chase was one of three men known as the "NATO 3," who were accused during the NATO Summit in Chicago of plotting to firebomb a variety of targets in the city, including police stations, President Barack Obama's Prudential Building campaign headquarters and Mayor Rahm Emanuel's North Side home.
His attorney says he doesn't want to see him "rot in jail with a ridiculous bond." Really. Cause he's such a stellar fellow, right?
Let the rotting commence.
It's hard to imagine a more thoroughly-planned Gun Free Zone Victim Disarmament Zone than a prison. But this guy managed to arm himself anyway, even if his choice in arms was literally crappy.