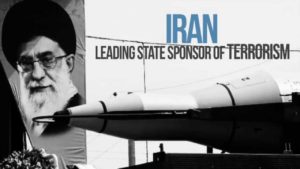 Eli Lake has a report in Bloomberg that should alarm anyone interested in Iran policy. He makes a strong case that the Administration was so fixated on appeasing the mullahs that command the terror state that it ordered the abandonment of pro-American activists — and even, a cut-off "burn notice" towards Iranians who risked their lives meeting with US intelligence. The article:
But Obama wasn't just reluctant to show solidarity [with "Green Revolution" protesters] in 2009, he feared the demonstrations would sabotage his secret outreach to Iran. In his new book, "The Iran Wars," Wall Street Journal reporter Jay Solomon uncovers new details on how far Obama went to avoid helping Iran's green movement. Behind the scenes, Obama overruled advisers who wanted to do what America had done at similar transitions from dictatorship to democracy, and signal America's support.

Solomon reports that Obama ordered the CIA to sever contacts it had with the green movement's supporters. "The Agency has contingency plans for supporting democratic uprisings anywhere in the world. This includes providing dissidents with communications, money, and in extreme cases even arms," Solomon writes. "But in this case the White House ordered it to stand down."
The US — even under Obama — supported other uprisings, both democratic ones in Serbia, Georgia and Ukraine, and the islamist-terrorist uprising in Egypt that overthrew longtime US ally Hosni Mubarak.
Iran though is a very different story. Obama from the beginning of his presidency tried to turn the country's ruling clerics from foes to friends. It was an obsession. And even though the president would impose severe sanctions on the country's economy at the end of his first term and beginning of his second, from the start of his presidency, Obama made it clear the U.S. did not seek regime change for Iran.

[I]t's striking the lengths to which Obama went to make good on his word. As Solomon reports, Obama ended U.S. programs to document Iranian human rights abuses. He wrote personal letters to Iranian Supreme Leader Ayatollah Ali Khamenei assuring him the U.S. was not trying to overthrow him. Obama repeatedly stressed his respect for the regime in his statements marking Iran's annual Nowruz celebration.

His quest to engage the mullahs seems to have influenced Obama's decision-making on other issues too. When he walked away from his red line against Syria's use of chemical weapons in 2013, Solomon reports, both U.S. and Iranian officials had told him that nuclear negotiations would be halted if he intervened against Bashar al-Assad.
Did this all pay off for Obama and the USA? Yes, and no, respectively.
Obama eventually did get a nuclear deal with Iran. Solomon's book shines in reporting the details of the diplomacy that led to the 2015 accord. …

Eventually, the Iranians wore down the U.S. delegation. At the beginning of the talks in 2013, the U.S. position was for Iran to dismantle much of its nuclear infrastructure. By the end of the talks in 2015, Secretary of State John Kerry and his team "agreed that Iran would then be allowed to build an industrial-scale nuclear program, with hundreds of thousands of machines, after a ten year period of restraint."

Other U.S. red lines were demolished too. The final deal would allow the U.N. ban on Iranian missile development to phase out after eight years, and the arms embargo against Iran to expire after five. Iran would not have to acknowledge that it had tried to develop a nuclear weapon, even though samples the Iranians collected at its Parchin facility found evidence of man-made uranium.
Why such self-abasing appeasement?
In one particularly revealing passage, Solomon captures the thinking of Kerry, who engaged in detailed negotiations over the deal in the final months of the talks. …"War is the failure of diplomacy."

Kerry's diplomacy succeeded. But the Middle East got war nonetheless. "The Revolutionary Guard continues to develop increasingly sophisticated weapons systems, including ballistic missiles inscribed with threats against Israel on their nose cones," Solomon writes in the book's concluding chapter. "Khamenei and other revolutionary leaders, meanwhile, fine-tune their rhetorical attacks against the United States, seeming to need the American threat to justify their existence."
When did appeasement ever have an outcome other than war, in the long term?