Florida has different demographics depending on where in the state you are. The East Coast is pushy, abrasive New Yorker boomers. The West Coast, the same. The Southern tip is occupied by whatever Latin American caudillos survived their ouster, and their former retainers. The Panhandle is Where Alabama Meets the Sea®. And the dank, gator-rich and citrus-producing center of the peninsula? It's Alabama, too, but circa 1960.
So you get headlines like, "KKK membership sinks 2 Florida cops."
The 49-year-old [Deputy Chief] Borst, a department veteran of more than 20 years, was also fire chief for the Lake County city of 5,000, about 40 miles northwest of Orlando. He resigned both posts Thursday after being confronted with the FBI report.

Officer George Hunnewell, who was demoted last year over performance and attitude complaints, was fired Friday by Chief Terry Isaacs.
via KKK membership sinks 2 Florida cops.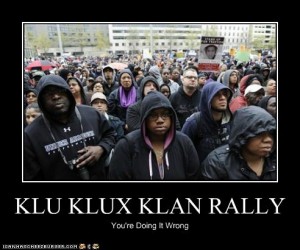 No word on whether either one was a "white Hispanic," but given the Klan's less-than-inclusive membership traditions, we kind of think not. Just goes to show that Trayvon wasn't the only Floridian to get into trouble in a hoodie.
It's a free country, and you can join the Klan if you want. (And we can laugh at you, if you do). But people are going to look askance at a policeman whose other uniform is a pointy-headed burkha with a faint whiff of burning cross to it.
The Shriners may dress funny for parades, but they never terrorized anybody, and they actually have built a lot of hospitals. "Burn center" has a completely different meaning to the brain-deads in KKK Nation.
In 2014 this should not take a lot of figuring out, but then again, on a figuring-out scale of 1 to 10, where would a guy who signs up for the Ku Klux Klan score?