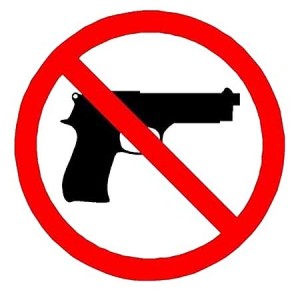 It starts off looking like another banster wet dream, the stale old gun turn-in/buyback. (And, how can they buy it back if they didn't sell it in the first place? But the biggest problem with these is never the grammar). Newsradio 560 WGAN:
Three Maine communities have a few more guns out of circulation today thanks to a program sponsored with the state police.

The Falmouth, Cumberland and Yarmouth police departments held a gun and ammunition donation program yesterday that gave people the chance to give back their unwanted firearms.
Boy, that's even worse than a buy "back." Poor folks didn't even get a Walmart card. So what happens to the guns?
Between 60 and 70 guns were collected, and they will be sold through a licensed firearms dealer and the money raised given to Special Olympics.
via Police Collect Unwanted Guns – WGAN.
Oh, you have to love this. Orphan guns are relocated to loving homes, and the monies raised thereby go to support a worthwhile charity. We should have known Maine cops would have had basic Downeast good sense, not like some of their New York or Chicago city counterparts.
By the way, these towns are located north of Portland along the beautiful Maine coast, and have a rate of violent crime — heck, of any crime — that's low enough that the local paper doesn't bother putting their police blotters on the website. The county's most wanted fugitives — all the county's fugitives, actually  —   are a bunch of revoked probations for assault, failures to appear, operating after suspension, selling liquor to minors and other small-town misdeeds. (We don't mean to belittle the hazards of small-town policing… Greenland, NH is just like that and a low-end scrote just like these Cumberland skip-outs managed to kill the police chief and wound four regional DTF officers on what was supposed to be just the latest in his long line of routine busts. We're just pointing out that the usual level of gun crime in these three towns, and in the area as a whole, is tantamount to nil).
In fact, in the entire state of Maine, there are normally about 20 to 25 homicides a year, most of them open-and-shut domestic situations. The Maine State Police note that the clearance rate for this crime is over 90%, although of course after many years a backlog of that unsolved 10% gets pretty big.