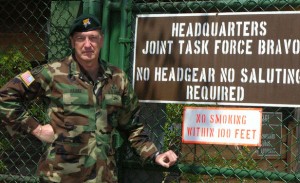 Tim Haake is a retired former SF/SOF general with time in JSOC and overt SF. So he sounds like just the guy to write this column in the Washington Guardian:
Starting July 23, Retired Army Major General Tim Haake will take Washington Guardian readers on a weekly mission inside the ranks of America's fiercest and most secretive warriors.

His Special Ops-ervations column will explore the untold acts of heroism, the breath-taking capabilities and equipment and the expanding reach and mission of America's special forces.

via Gen. Tim Haake explores the untold stories of U.S. special forces | WashingtonGuardian.
However, a closer look at Haake made one wonder. He's now one of the teeming horde of lawyer-lobbyists around the National Capital Area. And indeed, all his Army commissioned service was as a JAG. So… we checked him out. It's never hard to check out an SF or SOF guy if you are one. Just start emailing or dialing. It can take three bounces to hit a guy who knows the guy  firsthand — usually the first or second bounce brings you the second-hand, reputational information.
And we learned this: Tim Haake is the real deal. He transcended his JAGness in ways we don't need to discuss here, and would probably be embarrassed by some of the good things that bona fide warmakers said about him. Our  contacts' contacts even went so far as to praise his lobbying efforts: as a lobbyist, he's gotten vital SOF priorities funded.
So that puts his column in a different light, and we'll be looking forward to it here at WeaponsMan.com