Today, we have another mystery pistol, this one from the collection of Your Humble Blogger. Like all guns it comes with a story: it was a "broken gun" that was offered for sale by an Afghan villager, and it then inspired an intelligence operation that ran for some months.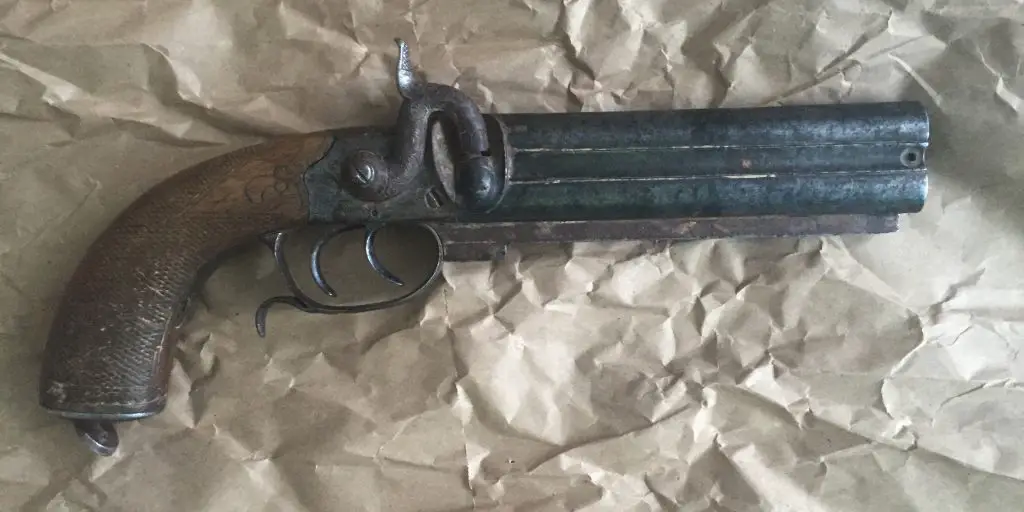 It is of perceptibly higher quality than most of its contemporaries from Darra Adam Khel and other local forges, but neither the fit, the engraving nor, especially, the checkering, resemble the 19th Century British over/under pistols on which it is modeled.
Double barrel firearms offered the 19th Century combatant, or sportsman, the prospect of a second shot without having to depend on what was not yet called the New York Reload. As a result, double-barreled percussion and pinfire pistols are common, until they are eclipsed by all sizes of revolvers.
There is a trap in the grip, presumably for holding percussion caps. Its spring is broken or absent.
It is engraved with some gibberish along the top rib, possibly in an alphabet of some kind completely unknown to us. Or perhaps they are numbers,  (apologies for photo quality, and for the fact we can't tell which side is up).
There is worn-off inscription on a silver disc on the grip. (Apologies again for poor focus).
As mentioned, it is broken and in poor condition. Some rich bluing remains. The springs are still strong and the hammers still move, but one has lost its spur, and neither sets the trigger.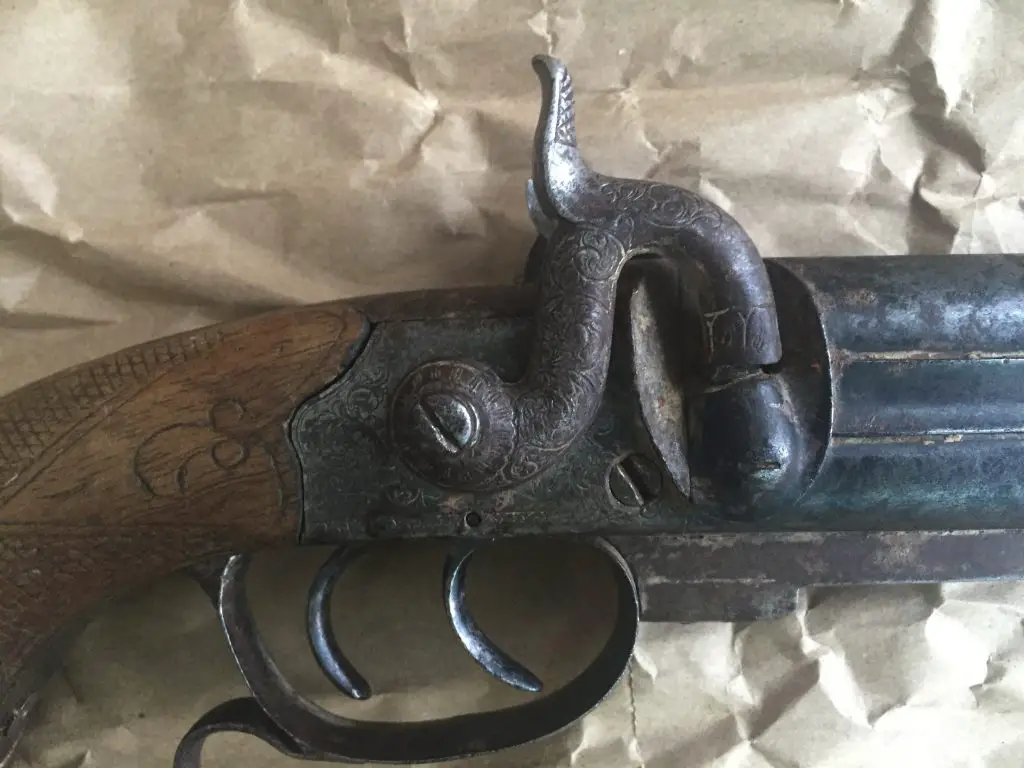 There is one trigger for each lock. At least, that was the smith's intention — neither one works properly now.
Some metal nubs near the muzzle and a partial ramrod slot underneath the pistol suggest that, at one time, this firearm featured an articulated ramrod.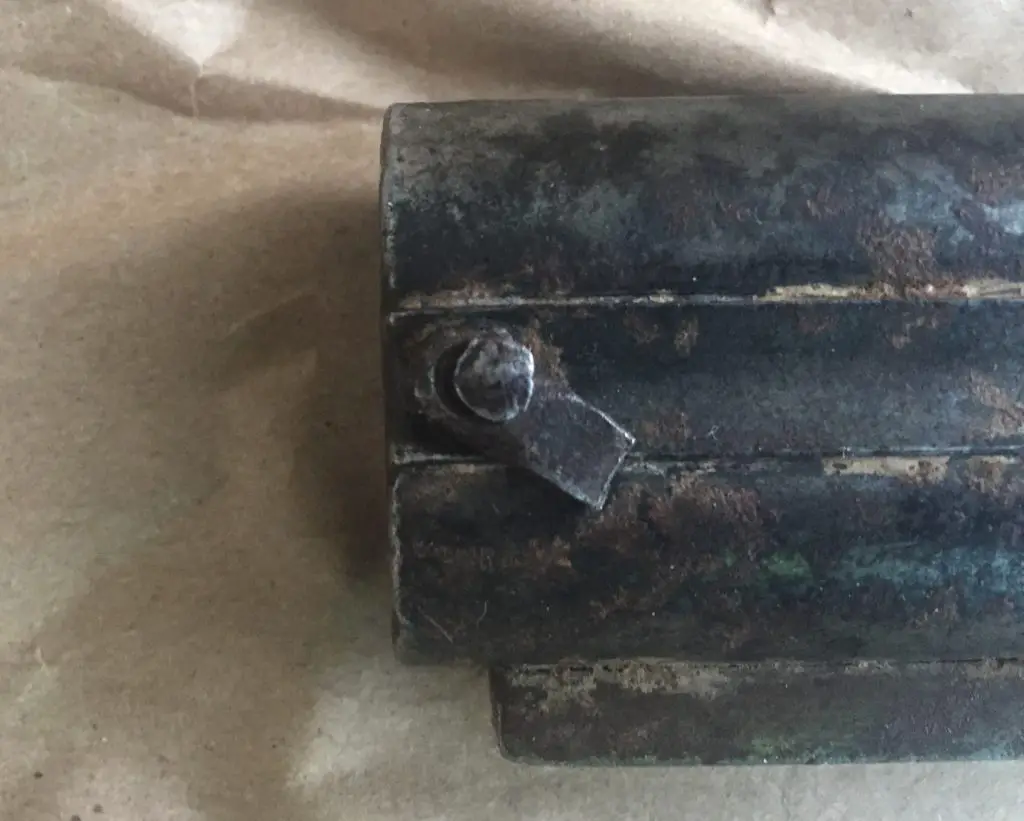 Here's the other side: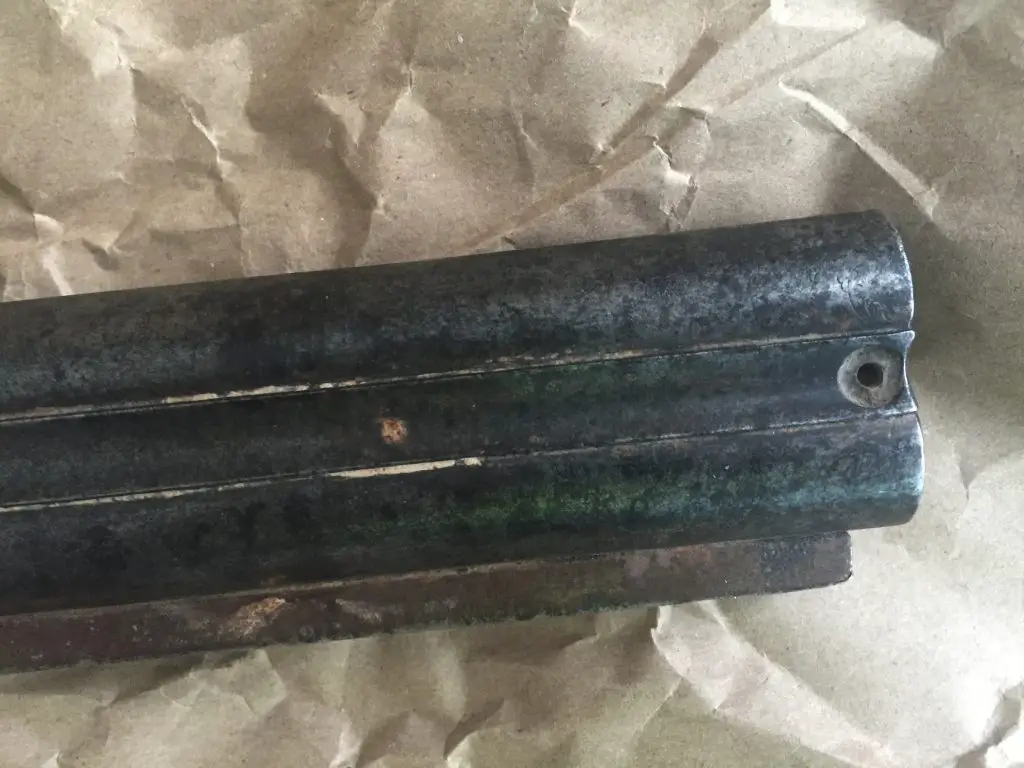 Caliber is measured at about .52-.54″ (roughly 13 mm) by caliper. There are traces of quite fast right-hand-twist rifling visible in the lower barrel, in the right light.
The grip is noticeably cruder than the rest of the gun, so it may be a replacement. But as mentioned above, the metal parts do not have the fit associated with European and American gunsmiths of this era.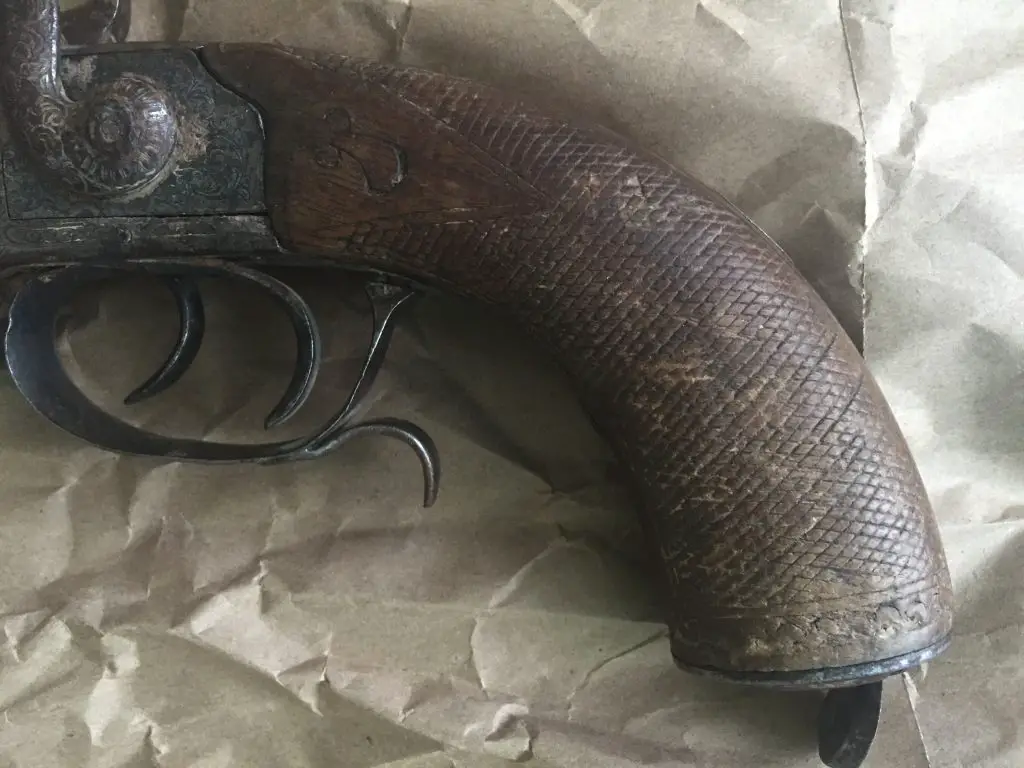 It's always interesting to speculate about the provenance and history of firearms. Our Afghan seller claimed that this pistol was "very old" and had hung on pegs on the wall of their family's cob house "since the time of Abdurrahman Shah," but then, Afghans do say stuff and everybody's family, everywhere, has legends and tall tales in it.
But along with the tale told here, this pistol played a part in one story that can't be told — not yet, and possibly not ever. So perhaps it's a good thing that guns are mere objects, and can't talk.