This morning, a steady drizzle fell, and it brought down many of the remaining leaves with it. It remained warm, to a welcome if unseasonable degree, and on our way from one place to another we found ourselves in the Norman Rockwell village of Hampton Falls, New Hampshire.
Like most small towns that existed in 1865, it has a Civil War memorial that has accreted memorials for various other conflicts in the following ages. It was constructed like many other memorials, with an obelisk aspiring to the clouds, and a display of forever-silenced cannon and cannonballs. Unlike many, if not most, such memorials, the cannon and pyramids of shot survived the scrap drives of WWI and WWII. The memorial is located in a small park which is home to various festivals and events during the warmer months, but adjacent to the busy north-south (appropriately enough!) Lafayette Road, named for the French volunteer's use of the road in the 1820s to visit old friends from the Revolution. Lafayette Road is also US Highway 1, which runs in an unending ribbon of strip malls, motels and neon signs from Maine to Key West. Lafayette Road is on the left in this picture; the yellow building is on the other side of it.
Thousands of people drive by this square every day and never give it a moment of thought.
Of greatest interest to you, dear reader, may be the Dahlgrens themselves. There are four of them, and four pyramids of projectiles, evenly arrayed around the memorial, in the shadow of the flagpole (were there any sun to cast a shadow today!)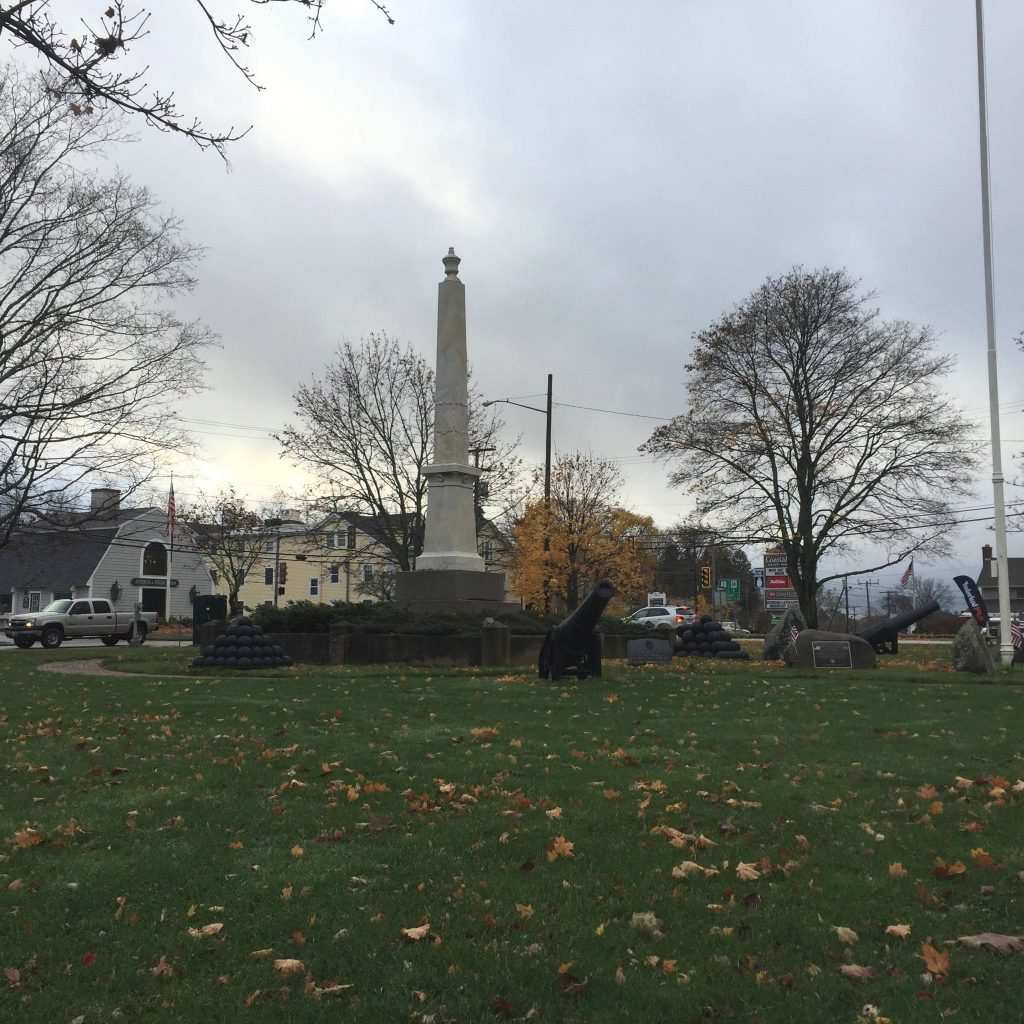 The guns appear to be in nearly new condition, although they're filled with something — probably cement. It's possible that they were cast at a foundry nearby, and then never delivered to the Navy due to the end of the war. It's also possible that the Portsmouth Navy Yard had them in storage for fitting out ships. The Navy Yard is a short distance away by road or rail.
The smoothbore Dahlgren guns have a distinctive, coke-bottle shape. They are beautiful machines, and were used in shore defense installations and on seagoing vessels alike. They often had a wooden carriage that resembled the cannon carriage of the Napoleonic wars.
These iron carriages are strictly for display.
Cannon balls may have been obsolete by 1865, but they sure did stack up nice. This pyramid has layers of 25, 16, 9, 4 and 1 ball = 55 cannonballs total.
Each Dahlgren Gun is engraved with its maker, its serial number, and its weight, at least to the nearest 5 lb. This one was 4500 lbs. The others were all within 10 pounds plus or minus of this one.
Why bother recording the weight? One possibility we can think of is for trim and balance calculations aboard ship. Three guns were cast by "C.A. & Cº," and on one the maker name was not visible, but might well have been the same.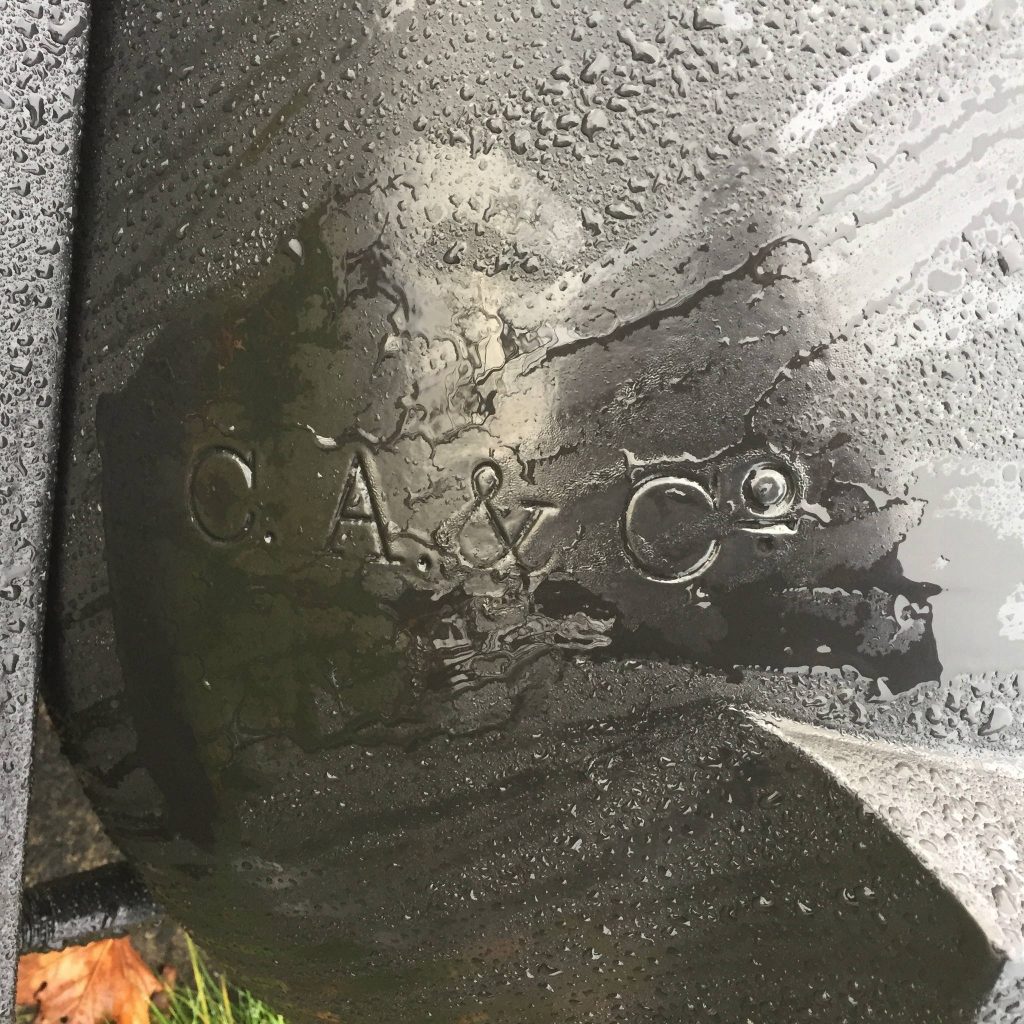 Civil War Artillery.com has a useful page about cannon manufacturers, which breaks out this abbreviation as follows:
Cyrus Alger & Co.:  Cyrus Alger, who during the War of 1812 furnished the government with shot and shell, in 1817 started South Boston Iron company which at an early date was known locally as Alger's Foundry and later became Cyrus Alger & Co.  The Massachusetts firm was a leading cannon manufacturer and when Cyrus died in 1856, leadership was assumed by his son, Francis, who piloted the company until his death in 1864.  During the war, both Army and Navy were supplied with large numbers of weapons.  The initials "S.B.F." (South Boston Foundry) occasionally may be found on cannon, but the signature is traditionally "C.A. & Co., Boston, Mass." or, rarely, "C. Alger & Co., Boston, Mass."
The Serial Numbers of the gun whose maker was invisible (perhaps underneath, or marked on the muzzle) was Nº 105. The others were Nº 155, Nº 156, and Nº 157. (Without measuring them, these appear to be 32-pounder guns, of which 383 total were made by Alger and several other founders).
This gives some support to the idea that the guns came direct from production or storage, uninstalled and unfired, to the memorial. Since Alger had been casting cannon for almost 50 years at the close of the Civil War, these numbers must be unique to Dahlgren gun production at the Alger firm's South Boston, Mass. facility.
Today, it is a place where you can see four Dahlgren guns at once.
And numerous plaques honor the town's many veterans, of the nation's many wars.
Unfortunately, our shot of the Vietnam War honor roll was not successful, nor the one we took of the Civil War honor roll. It was a very different America in 1865 — the names were all English or Northwestern European, and many families sent five to eight men with the same surname to the war.
The town and the veterans' groups cooperate to tend this little memorial well.
While the Dahlgren Gun served the Union well, and Rear Admiral Dahlgren did, also, he paid a considerable price by giving his design to the nation free of charge. The USA then not only produced some 4,700 Dahlgren guns and howitzers for American used, it furnished the design gratis to various foreign nations. Alger did pay Dahlgren a royalty of 1¢ per pound of guns cast in South Boston for foreign customers, but his widow wound up in straitened circumstances and petitioned the Congress for relief.