They're out there, of course; and the media loves them. For years, one of the most relentlessly self-promoting ones was Mike Weisser of Massachusetts, who billed himself in media as "Mike the Gun Guy" and never met a ban he didn't like, even though he was an FFL. (Apparently he wasn't a very honest gun guy, which will surprise no one who ever argued with the slippery Weisser. He is reported to have surrendered his FFL, and his records, deficiencies and all, to the ATF rather than face charges some time ago).
Now, Mark Patinkin of the Providence, Rhode Island, Journal, has found another anti-gun gun shop.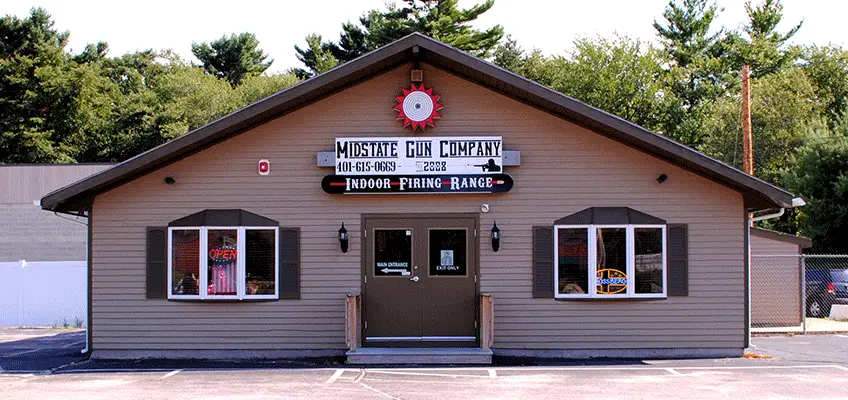 The owner and employees of Midstate Gun Shop in Coventry, Rhode Island, hit the media hextifecta:
They hate the NRA; if you're an NRA member, you're not only not "intelligent"  but also an "extremist."
They don't care for hunting, mostly;
They wish they could vote for Obama for a third term;
They believe all guns should be locked up unloaded at all times, and no one should want or use one for self or home defense;
They support a one-week waiting period for gun sales;
If you disagree with that, you're "crazy" and an "extremist."
Patinkin thought he had died and gone to heaven: proof positive that gun people all agreed exactly with him!
I told myself it had to be a fluke. Aren't gun people all mean survivalists with an anti-government chip on their shoulder?
I sat down with the owner, Kyle McCarthy, 44, and admitted to having that stereotype. It got a smile.
"People consider this to be a back-alley secret society of dangerous and evil people," he said.
I asked where that comes from.
Mostly the media, he said: "They like to equate the criminal element of society with sportsmen."
I asked if any media outlets are more fair — like Fox News?
McCarthy shook his head. "No, I don't agree with Fox News. Fox likes to quote sensationalist NRA extremists."
Wait a minute — I thought a gun shop owner would love NRA extremists.
"Intelligent people don't like extremists on either side of the fence," he said.
Then McCarthy told me he wasn't even an NRA member.
What?
He said the NRA is as guilty of sensationalizing as the extreme anti-gun side.
"It seems they're against any law that could be productive in keeping guns out of the wrong hands," he said.
Such as?
"A proper storage law." He said owners should be responsible for keeping their guns locked up and secure.
McCarthy also welcomes Rhode Island's law requiring a week-long gun-purchase waiting period while both the FBI and local police departments do background checks.
One of his employees, Dave Champagne, joined us. Champagne used to be in restaurant management, including at the Cowesett Inn, until the recession.
We're still trying to figure out how locking guns up keeps them out of the hands of criminals. The best safe we ever had — it was approved to keep Top Secret stuff in, materials which could do exceptionally grave damage to national security if they were lost — guaranteed to delay an attacker for half an hour. The gun safe you buy at Walmart or Dicks (or, if you're exceptionally self-loathing as a gun owner, from the anti-gun Midstate Gun Company in Coventry, RI) will delay a dumber than usual burglar three to five minutes, max. Storage has to be part of a layered physical security plan, or it just keeps honest people out.
Back to Patinkin's delight at finding kindred souls in an anti-gun gun shop….
via Mark Patinkin: In gun shop, stereotype gets shot full of holes – News – providencejournal.com – Providence, RI.
I asked Dave Champagne if he was an NRA member.
"Hell no," he said.
Then he ruined my stereotype even more.
"I'm a liberal who works in a gun store," Champagne told me. "I voted for Barack Obama twice, and I'd vote for him a third time if I could."
And get this — Champagne doesn't even own a gun.
"I don't hunt," he said. "My recreation is here at work, and I don't fear someone kicking in my door and stealing things they wouldn't want anyway."
Of course, plenty of the employees have gun collections, including store manager Claude Lefebvre, 50, a Coast Guard vet and La Salle Academy grad.
He got his love of the sport from his dad, Donald, 79, who happened to be in the store. Donald Lefebvre has been hunting since he was 15, mostly deer and ducks.
"I don't shoot anything I'm not going to eat," the elder Lefebvre said, adding that shooting relieves stress for him.
Another employee, Eric Lunardelli, 42, told me much the same thing. He went to Toll Gate, has been a competitive trap shooter, and he doesn't like the NRA, either.
I chatted with them for an hour as customers came in and out and, finally, I had to go.
I thanked McCarthy, and told him I was disappointed — I'd come down looking for gun nuts.
He said he was sorry. "We don't cater to crazy," he explained. "Or extremists."
We thought this might be one of those cases where a reporter wanted that to be true bad enough that he just made the story up. Reporters do that all the time; that's what Gersh Kuntzman of the NY Post did in the story where he claimed he gave himself PTSD and a bruised shoulder by firing an AR-15. (He later stealth-edited the PTSD claim, lie upon lie: again, that's what reporters do). But while Patinkin found a store that matched his prefab narrative, a careful perusal of the Midstate website indicates that they really, really, are anti-gun.
From their lame instruction/test booklet (.pdf), there's a bunch of real fright about using a gun for protection:
While asking a lawyer who practices in this field might be a good idea, asking a cop isn't. Most cops have too many laws to keep track of. You might get a guy who knows the statutes and case law, or a guy who's pulling it out of his nether regions.
There's also this:
Hey, how did that sear get into a 1928 Thompson?
If you don't know what you're writing about, guy, stop writing. (This may have come from the State of Rhode Island, an operating subsidiary of La Cosa Nostra, because the test is for a Rhode Island "blue card" required to buy pistols).
In any event, there you have it. Mr McCarthy does not want any crazy extremists, any NRA members, anyone that wants a gun for defense, or any one that is against a third term for President Obama to buy from him.
Make it so.