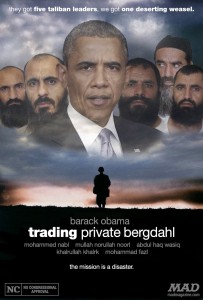 With the motions phase of his trial not going well, Bowe Bergdahl — through his radical lawyers led by elderly Stalinist retread Eugene Fidell — has requested that his name be added to President Obama's last great list of pardoned prestoopniki.
The request for pardon shows, perhaps, that Bergdahl and his lawyers know what's been obvious to anyone following his saga — the dude's guilty, guilty, guilty.
White House and Justice Department officials said Saturday that Bergdahl had submitted copies of the clemency request seeking leniency. If granted by Obama, it would allow Bergdahl to avert a military trial scheduled for April where he faces charges of desertion and misbehavior before the enemy. The misbehavior charge carries a maximum penalty of life in prison.

If the pardon isn't granted, Bergdahl's defense team said it will expand its legal strategy to the new administration by filing a motion arguing President-elect Donald Trump violated his due process rights with scathing public comments about the case.
Bergdahl deserted his post in 2009 and went over to the Taliban. Hundreds of Americans risked their necks searching for him, and some of them were killed. Others suffered life-changing wounds.
In May 2014, the Administration made a secret deal with the Taliban to swap 5 terrorist leaders detained in the Guantanamo Bay facility for the traitor. Unlike the men who were placed at risk or injured seeking him, or the families of the slain, or, for that matter, any of the soldiers who went to Afghanistan and did their duty, the turncoat's release was celebrated by President Obama. Giving the President's general tilt towards jihadi terrorists and against American fighting men, a pardon is a real possibility.
Bergdahl is unlikely to be as celebrated by President-Elect Trump, who has pointed out that "in the old days," we shot traitors like him.
Fidell, the Leftover Left activist leading Bergdah's delay-disrupt-deny defense, thinks he can use Trump's hostility to his client to get the traitor sprung, if appealing to Obama's fondness for his client doesn't work.
Fidell said he plans to file a motion seeking dismissal of the charges against Bergdahl shortly after the January inauguration, arguing Trump violated Bergdahl's constitutional due-process rights.

The defense has been noting Trump's comments about Bergdahl in what they've dubbed the "Trump Defamation Log." A version included in the court record lists 40 such instances as of August.

"All of these things put together and repeated rally upon rally for basically a year have a cumulative effect that I think is totally at odds with the right to a fair trial," Fidell said in a phone interview.
Unfortunately for Gene Fidell, whose dream world would be a regime where radical lawyers could control who could speak and what they could say, his dream isn't becoming real.
Good luck with the technicalities, because everyone knows, regardless of legal maneuvers, that Bowe Bergdahl is a traitor and a prince of Blue Falconry. Even the Taliban don't want him back!