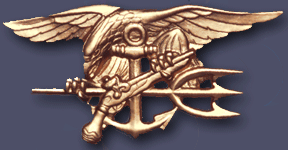 We've just heard the following story, and can't vouch 100% for its truth, but it would explain something interesting: why, after using at least two suppressed weapons on a limited basis in Vietnam, and another thereafter, the SEAL teams did not pursue more general issue of suppressed weapons. (Two suppressed weapons they did use were the Mk 22 "Hush Puppy" variant of the Smith & Wesson M39, which added a threaded barrel, a suppressor, a raised sight axis (to clear the suppressor), and a slide lock; and a suppressed version of the S&W M76 submachine gun).
In the SEALS, there was a faction that was strong for suppressors as a force multiplier, and a faction that dismissed them as "spy [bleep]" and couldn't see a practical use for them. So a test was arranged.

In the test, the SEALS, with the support of what was then the Naval Weapons Systems office at Crane, Indiana, tested a variety of US and foreign suppressed weapons in two like-real-life CQB environments: shipboard, on a ship destined for scrap, and ashore, in a Navy building that already was penciled in fora date with the wrecking ball.

Even with the quietest weapons, like the Hush Puppy with slide-lock engaged, there was no mistaking that a gunshot had been fired. The SEALS could hear the thud of rounds hitting walls, or the Spang! of them hitting ships' decks or bulkheads. In addition, they could still hear  the report, however reduced it may have been.

The SEALS concluded that the state of technology did not support a more general issue of suppressors at the time, because anyone the SEALS engaged would still know he was being engaged (at least, until they killed him).
By 2016 standards, this error forty-whatever years ago is clearly based on a false concept of what a suppressor does for you in combat. In fact, the gadget's benefits are great even when they fall far short of the Hollywood effect of making the entire report of the shot disappear. Suppressors reduce noise and light signature, preserve operator hearing, help identify friend from foe, and mask the source and direction of friendly fires. Those reasons certainly justify using such tools.
But it took a while for the operators to learn that. Today, a lot more SOF (US and global) are running with suppressors, even though there's still no way to keep the enemy from knowing that you're shooting at him. At least, until you kill him.
Correction
This post originally named the Hush Puppy as the Mk 23. Daniel Watters points out in the comments (correctly) that the proper nomenclature is Mk 22 Mod 0. The error has been corrected. -Ed.