They're positioning the new Tracking Point NightHawk as a Homestead Defense gun, but we're seeing the king of all hog harvesters.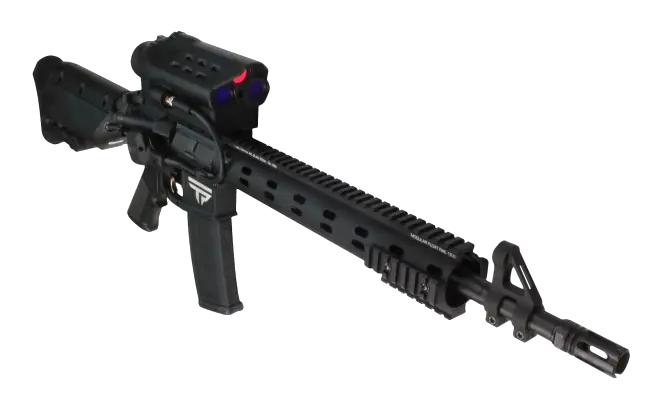 This latest iteration of TP tech is supposed to list at a that's-what-my-truck-cost $15.5k or so, but they're jump-starting sales by selling the first 100 for $6995. Tracking Point writes:
The… NightHawk .300 Blackout. Designed for homestead defense, NightHawk has a fully integrated night vision capability and is offered at an introductory price of $6995 for the first 100 purchases – the lowest price ever offered for a Precision-Guided Firearm.
To us, the NightHawk seems like a slightly-decontented .300 version of their 5.56 M600 SR service rifle. Unlike the M600,  the NightHawk is limited to engaging targets at speeds of 7 mph.
A follow-up email had more on the special offer:
The TrackingPoint team would like to thank everyone for a tremendous response to our NightHawk product launch. We were overwhelmed by the genuine interest in our night vision system designed for homestead defense. The NightHawks have literally been soaring off the shelves!
"Literally soaring?" What, it's a drone, too? Or is Vice President Biden, the National Mangler of "Literally," writing TrackingPoint's ad copy these days?
This is a notification that we have a limited supply of the first 100 NightHawks for the exclusive offer price of $6,995*. Place your order today to guarantee this discounted price and receive the most advanced Precision-Guided Firearm to date for the lowest price ever offered.

To place an order, please call (512) 354-2114

*MSRP $15,490
Tracking Point also offers financing now, which may make some of their pricy firearms more accessible to regular Joes. $7k is a lot for an AR, but considering that the scope and night vision are included, the delta between NightHawk and a build-it-yourself day/night rig is not as big as it seems at first.
Technically, the night vision is an add-on to the TrackingPoint system that uses an infrared illuminator (as in early active night-vision products, like the M3 Carbine and Infrared Snooperscope, or the infrared driving light on a 1960s Russian tank), but they claim it gives Generation II equivalent performance. The night vision capability is available as an option (including as a retrofit) for the rest of the TrackingPoint line. Here's what they say about it:
NightHawk includes fully integrated Night Vision Kit which enables CMOS sensor technology to deliver Gen2-like night vision performance. After dark you are able to acquire and track targets just as you would in daylight. Nighthawk also includes a rail-mounted IR Illuminator.
Also, in a first as far as we know, the NightHawk has programs for TrackingPoint branded ammunition but also off-the-shelf ammunition using the Barnes 110 bullet. Previous TrackingPoint precision guided firearms have required TrackingPoint ammunition for predictable ballistic performance.
Other new capabilities (or perhaps, new description of an old capability) include a mode making the "tag" on a target automatically seek center of mass on that target, and using the TrackingPoint precision-guided system to enable image-stabilized shots from offhand to provide "firing supported" levels of precision and accuracy. The tagging system and guided trigger also increases hit probability on moving targets or on shot at stationary targets while shooting on the move.
The one question still open in our mind is this: how does it fare with a suppressor? Seems to be leaving a signature capability of 300 BLK behind, if it's not suppressor-ready and can't account for the point-of-impact shift that comes with most suppressors.
More information on the NightHawk is available on TrackingPoint's website.