Screenshot from Shooting Sports Retailer, generally a really good online trade mag:
D'oh.
(The sight in question is a Trijicon TA01NSN scope, the model we had on our M4A1 in Afghanistan. It's a traditional four-power scope with a tritium-illuminated reticle and bullet-drop compensation for the M855 round from a 14.5″ barrel. It's not a red dot).
We used them mostly just like this, with the backup iron sights, although some guys ran them with a Docter or RMR red dot mounted on top of the scope for servicing both close and distant targets.
The sad part of it is, the story is pretty good. Especially when you consider what the author is trying to do, provide some primary education to gun-shop clerks about red dots so that they can better serve their customers.
You'd think they could have found a picture of a red dot sight to illustrate it. This is the Aimpoint Comp M2 aka the M68, the contemporary of the ACOG shown above. (We pulled these pics off of GunBroker, where this optic is currently up for bid).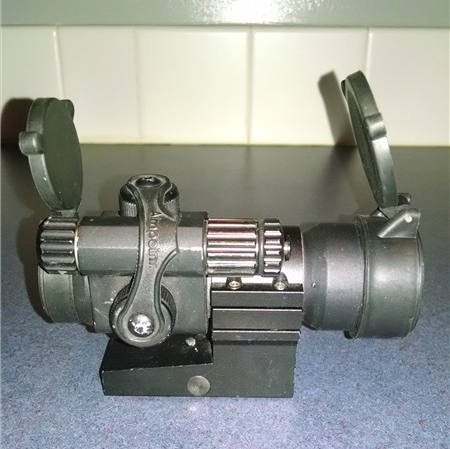 The Comp M2 has a feature most don't need, along with several degrees of visible-light brightness the dot has night-vision-compatible settings. (The NV "red dot" looks green through your PVS-7s, but then, so does everything).
Here is why it is called a red dot.
You're welcome.