How did they celebrate Veterans' Day at Hampshire College in the college-dense wonderland of Amherst, Massachusetts? Students, professors, and administrators gathered on the eve of Veterans' Day, lowered the United States Flag, and burned it. It was a fitting expression of their contempt for the United States and, especially, its veterans.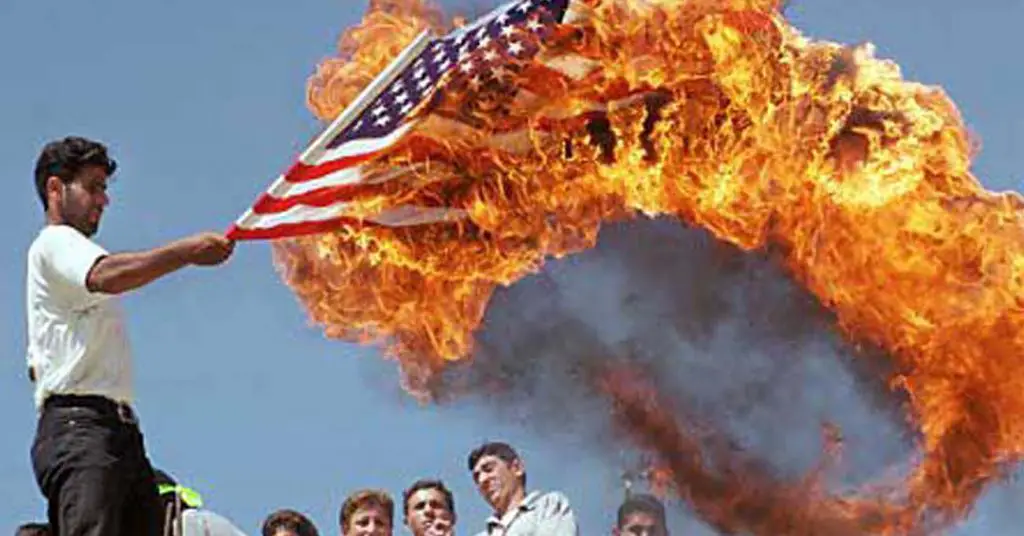 To celebrate this display of Hampshire College values, and illustrate college solidarity with the flag-burners, College President Jonathan Lash ordered that the flag not be raised, afterward.
Hampshire College's president Johnathan Lash announced neither the American flag nor any other flags will be flown on campus.
Lash is not a veteran. (His only career has been as a bureaucrat and an enviromental activist). He despises veterans. He certainly doesn't want them, or their family members, on his campus. He obviously doesn't want any veteran in business ever to hire a graduate of Hampshire College, thereby staining the college's purity of message with the taint of America.
Lash is no stranger to the power of the flag as a symbol. He had previously ordered it lowered to half-staff, in protest of the election of Donald Trump.
You know, if you are an inmate of some navel-gazing Academistan, and wondering how in the Hegel we wound up with President Trump, this is what those of us in the intelligence racket call an indicator. President Trump?  Jonathan Lash is how you get President Trump, and he's already working to re-elect the guy.
Update
Michael Walsh at PJ Media has more. He includes an excerpt from an updated statement from the veteran-hating Lash. In it, Lash says his decision to fly the flag at half-staff was a response to "the current environment of escalating hate-based violence," by which he apparently means his candidate losing the election. (For an academic, he uses words with the imprecision of the bureaucrat that he was before). Then, he denies it had anything to do with the election; at one point, he even suggests he was doing it to respect the war fallen, a laughable suggestion. And he culminates by saying not flying the flag lets them focus on fighting what it stands for:
…racist, misogynistic, Islamophobic, anti-immigrant, anti-Semitic and anti-LGBTQ rhetoric and behaviors.
As Walsh says, you might want to think twice before sending your kids here. Not to this evil place. Or for hiring anybody else's kids who have been subject to Lash's hate indoctrination for four or more years.