Well, in 1996, Australia outlawed and confiscated semi-auto and slide-action rifles and shotguns. And crime in Oz came to a standstill.
We kid, we kid.
After giving the law ten years to stabilize things, here's what a chart of the last ten years' gun violations in the city of Melbourne looks like: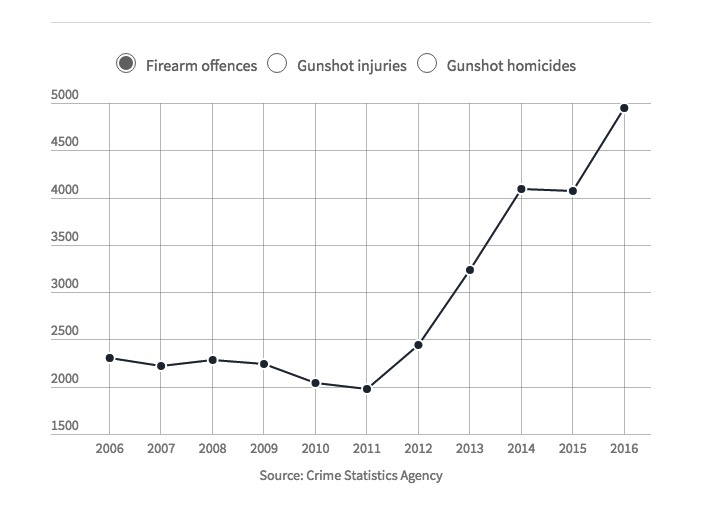 Despite Australia's strict gun control regime, criminals are now better armed than at any time since [the 1996 ban and confiscation].
"Despite." Heh. Whom do they think benefits most from prohibition of anything?
Shootings have become almost a weekly occurrence, with more than 125 people, mostly young men, wounded in the past five years.

While the body count was higher during Melbourne's 'Underbelly War' (1999-2005), more people have been seriously maimed in the recent spate of shootings and reprisals.
More woundings, fewer fatalities? That tells us this: Australian doctors, nurses, and emergency trauma responders, too, practice continuing education, attend international trauma conferences, and keep improving their skills. (Of course, experience in all those GSWs helps in and of itself). Who knew?
Crimes associated with firearm possession have also more than doubled, driven by the easy availability of handguns, semi-automatic rifles, shotguns and, increasingly, machine guns, that are smuggled into the country or stolen from licensed owners
Did you catch that: "increasingly, machine guns"? Gee, there's another surprise: you make it just as impossible as you can for someone to own a modern handgun or rifle, and he's going to think. "As well hung for a sheep as a lamb," and go for the MG. Not to mention that it is easier for a maker of improvised weapons to make an open-bolt full-auto SMG than it is to fashion a closed-bolt, functioning-disconnector semi-auto firearm. One is reminded of Oleg Volk's classic photo commentary on this: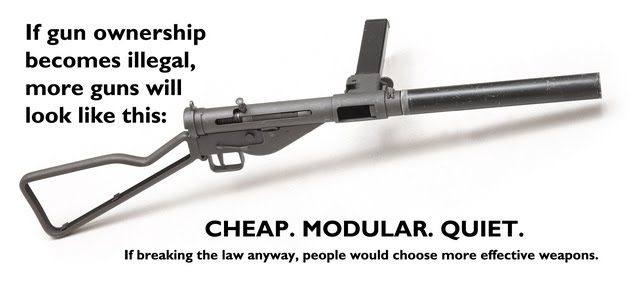 Indeed.
The Age found certain troubling factors indicating that the South Australian city was not the glowing example of peace, love and brotherhood that Australian politicians promised when they warmed up the smelters in '96.
There have been at least 99 shootings in the past 20 months – more than one incident a week since January 2015
Known criminals were caught with firearms 755 times last year, compared to 143 times in 2011
Criminals are using gunshot wounds to the arms and legs as warnings to pay debts
Assault rifles and handguns are being smuggled into Australia via shipments of electronics and metal parts.
Of course, 99 shootings is a bad summer weekend in Chicago, but we do feel Australia's pain.
As we have seen repeatedly, laws restrict only the honest people. The criminals, who cheerfully move millions of tons illegal freight, whole warehouses of contraband, and entire armies of personnel, criminal immigrants and trafficking victims alike, worldwide, are not finding it too much of a challenge, to move some 8-pound rifles and 2-pound pistols.
The Bronze's answer? More laws against more stuff, because people are not impressed by the extant skein of laws.
[T]he state government is planning to introduce new criminal offences for drive-by shootings, manufacturing of firearms with new technologies such as 3D printers, and more police powers to keep weapons out of the hands of known criminals.
Now, the State Government of South Australia is a matter for the South Australians themselves, and not to be made idle sport of by distant Yanks, but we do seem to remember it is the very same government whose brilliant energy policy, based upon wind power, recently left the citizens without electricity for days on end, due to the fickle winds not responding to the magical incantations of the SA politicians. No doubt they will pass some law against the wind, or perhaps the want of wind, and it shall have as much effect as these well-meant but ill-considered gun laws.
And then there's this finding:
The majority of firearm-related crimes are committed by those aged 20 to 34 – almost 1500 offenders were recorded for this age group last year, more than two-and-a-half times the number five years ago, according to the Crime Statistics Agency.
Gee, most criminals are young men. Who knew? We mean, aside from every criminological text, study and paper ever penned since the monographs of Sherlock Holmes. (In fact, a disproportionate percentage are young minority men, but The Age is a bit too PC to follow that thread). It never ceases to amaze us that reporters will still write about a discovery like this as if it were news. In other news, studies have determined that the majority of water is wet.
The part about smuggling is worth quoting at length. First, they try to blame legitimate owners:
2014, Australia reached a disturbing milestone – the moment when there were more legally-owned firearms in the country than before the 1996 Port Arthur Massacre.

The national gun buyback scheme launched by then Prime Minister John Howard led to the voluntary surrender of more than 700,000 firearms, but more than a million new weapons have been legally imported since.
But then they admit that the problem may lie elsewhere.
But the "diversion" of newly imported weapons – either through theft or illegal sale – is one of the biggest sources of black-market firearms, a senior law enforcement source says.

Despite Australia's strict border controls, the smuggling of high-powered military-style firearms is also a growing problem, particularly with the country's reliance on shipping by sea cargo and the rise of the so-called "dark web".
Australia is a nation with no land borders anywhere, and no significant domestic firearms industry. If gun control was going to work anywhere, it would work here.
The investigation of an armed robbery of an armoured car outside a Sunbury McDonald's last year revealed the arsenal of powerful weapons now in the hands of local criminals.

Victoria Police raids on the crew allegedly responsible for the $290,000 theft uncovered a cache of military-style weapons, including a US-made M16 assault rifle and a Thureon machine gun – a firearm never before seen in Australia. Thureons would be used in other crimes over the next year.

That bust led to the seizure of six fully-automatic assault rifles and 96 handgun frames in the US, and dozens of machine gun and handgun parts, and 10 kilograms of ammunition, in Victoria and NSW.

The raids came from the formation of a special state, national and international task force known as Operation Ironsight.

Police admitted they had only recovered four of the 11 assault rifles believed to have been smuggled into the country.

The weapons that were seized in the US were set to be smuggled into Australia in the false bottom of a shipping container. Gun components can be extremely difficult to detect when mixed with metal objects or car parts, sources say.

Given that only a fraction of sea cargo can be physically examined at the point of import, law enforcement and border authorities are deeply concerned about the vulnerability of Australia's docks and freight terminals.

Joint operations between the AFP and Bureau of Alcohol, Tobacco and Firearms have also intercepted a high-powered handgun concealed inside an Xbox console and parts for an assault rifle hidden in a DVD player. Both were ordered by Australians through a black market website and shipped by post from the southern United States.
Why do criminals risk prison to smuggle these goods? We would say, based on our studies of insurgency logistics (which have some similarities to criminal organization logistics), that there are several factors.
They are highly motivated to acquire firearms;
Smuggling is usually effective. Most smuggled goods get through (drug agencies have long suggested 90%) and many, if not most, smugglers are never caught;
Rewards are immediate, certain, and significant. Punishment is delayed, uncertain, and often less significant (in the value system of a criminal);
A low level of smuggling suffices;
The flow of cargo can't be interrupted and can't be inspected, only spot-checked or inspected in the event of a tip-off or surveillance-driven break;
However firearms get onto the black market, the trade can prove very lucrative for the organised crime groups that control it.

A brand-new Glock semi-automatic pistol purchased for $700 from a legal firearms dealer in the United States will fetch $8000 to $12,000 on the streets of Melbourne.
The economics of clandestine production are similarly attractive, of course. And the more pressure the police apply, the better the economics get, for the 90% (or whatever the number actually is) of criminals that do not get caught.
Ten or twenty years from now, most Australians will not be committing crimes, and a small minority of Australians will, just like any other nation. And in neither case will the Australian gun laws be a major factor.