Yes, we'll explain that weird title. Here's a snip from an Officer Safety message going around:
An AR pistol Cerakoted in Nerf livery. Oh, brother. Nuclear Dumb Idea in the Megaton Range? Let's zoom in, at the cost of some grain: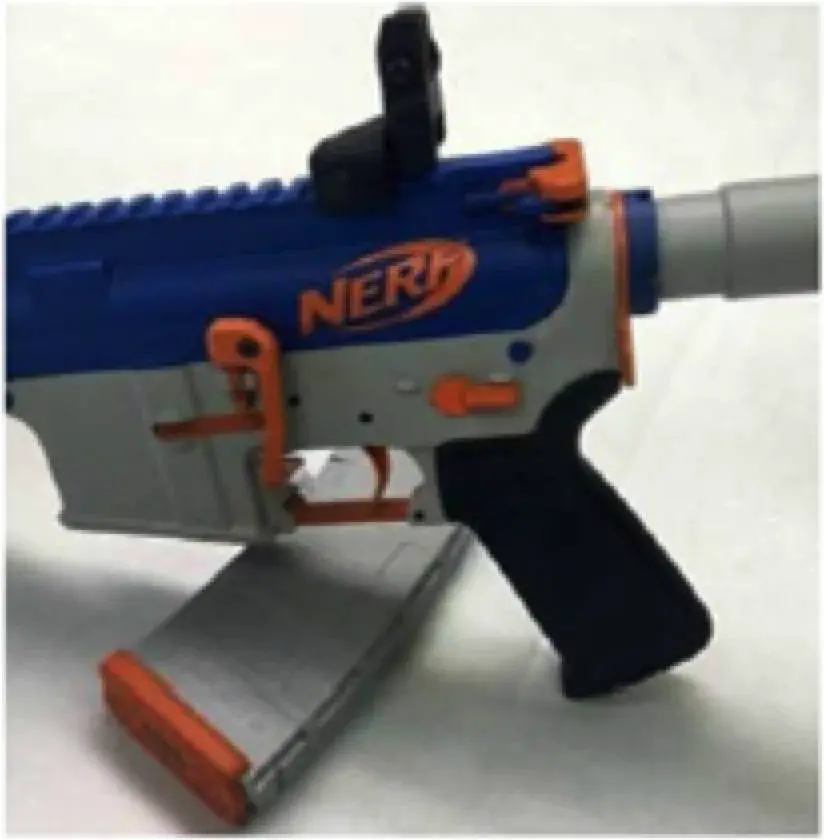 They must have found this online somewhere… we checked in the usual domains of derp, like /r/guns and Arfcom GD, and struck out; we finally found it, actually, in this Picture of the Day post at The Firearm Blog. Which has a better picture, used as a promo by the outfit that Cerakoted it. It's obviously the source of the Officer Safety images, so while the alert may have originated in Hangover, it doesn't look like the gun did, taking "Midwest" Cerakote at their name's word.
At TFB they take a cautious, not alarmist, view.
Before some of you have knee jerk reactions remember we do not know what the owner plans to use this for. I like to be optimistic that he will be a responsible firearm owner. From a custom paint job perspective I think Midwest Cerakote nailed the Nerf blaster look. The accent orange color looks well chosen. The magazine is the only issue I have. It should be orange. Most Nerf "clips" are orange. Hasbro calls then "clips" even though we all know better.

I know some of you will think the worst and that this is how someone gets shot. Well my response is simply that it is the responsibility of the person using the item. There is no problem painting a gun however you want it. As long as you use it responsibly. Same with realistic toy guns. Don't point them at cops. Don't use them in an area that could be seen and mistaken as a real gun. Or vice versa for toy painted guns. If people remember to not be morons, we would not have problems. Do what you want that makes you happy. Just do so safely and responsibly.
It's an interesting and libertarian view. But you see, the problem isn't this probable safe-queen AR that someone spent a lot of money on. The problem is that cops can't un-see that, as the kids say. And now they know that what looks Nerf might not be Nerf. While the public concern might be that some cop is going to go fangs-out and blow Little Joey and his Nerf Blaster from here to Johannesburg, we don't think that's the real problem. Street cops, who have enough worries already, are now trying to sail the strait between the Scylla of toys that look like guns and the Charybdis of guns that look like toys. Most likely outcome? Cops are going to wait a bit and keep processing for a few more clock cycles until they're sure, or at least more confident, about what it is that somebody's holding.
Historically, cop restraint has saved a lot of lives when people were doing something dumb that could have gotten them shot, but who didn't actually need shooting. Almost every cop has a story of someone he could have shot but he's glad he didn't. And cop restraint has also landed a lot of officers an entry on the Officer Down Memorial Page. It's a safe bet that nobody on that page really wanted to go there, that day.
Well, we can't unring the bell, un-release the stuff from Pandora's box, or un-you-know-what the cluster, so we're going to have to live in a world without bright lines between the physical appearances of guns and toys from here on in.
So we might as well appreciate some of these artworks, then. TFB has some other examples, both of guns painted like toys and toys painted like guns, so you should Read The Whole Thing™ even if just for the pictures alone.
We remember an AR done in John Deere green and yellow and thought it was amusing (and we knew a guy who did that with his gyroplane: Deere's lawyers sent him a nasty threat). And here's a Cerakote job on an actual Nerf gun (different from the ones at the TFB link, this one's from Tom's Custom Coatings in Ohio).
Cerakoters are getting extremely creative. Here's one we liked from the same dude that did the Nerf gun above. Meet the Star Wars themed Imperial Stormtrooper AR :
Of course, most of these images embiggen for more detail. It purports to come from Vader Arms. We bet he got the contract after a galaxy-wide search.
We've all probably been accused of playing with guns at some point. But it looks like some people really do it.