Kanshoan, a sword shop in Japan, offers up this poem, the origin of which we do not know. Perhaps they made it up:
When you have trouble and you are at a loss,
just look at a sword.
A sword will encourage you.

When you're angry and you have flown into a rage,
just take a deep breath and look at a sword.
A sword will quietly ease your mind.

Look at a sword, and touch a sword.
Of course, if your mind doesn't ease, you still have the sword, and can set to lopping off heads. There is that.
But a Japanese sword is an item of beauty as much as practicality. Consider this katana from the Onin Warring States Period c 1467-68, well before Ferdinand and Isabella secured Spain and sent an Italian navigator on an exploratory mission.
This sword was half a millenium old when Sergeant Pepper was released, and before cars had to have headrests and shoulder belts in the USA.
It is attributed to a master swordsmith named Kanesada, was engraved by a named master, and was made for a swordsman named Fukazaka, of which nothing is known except that his taste in swords was sublime. It can be yours for something over a million Japanese yen.
Japanese swords are unique in the world of edged weapons. Their engineering was, for the day (and for today, for that matter), remarkable. They mastered the impossible task of making the same blade strong, rigid, flexible, durable and razor-sharp. Normally metallurgy presents the engineer with a series of properties, but only lets him choose a few of them, for a metal that takes a razor edge, for example, seldom can hold it long; a sword that can slice through a man's torso, powered by a strong warrior's swing, seldom can take the blow of a thrust upon its tip. The Japanese innovation was in using laminated forged steel (much like Damascus steel) to give a blade multiple properties, and then using separate heat-treatment techniques for separate parts of the blade to produce, again, multiple properties.
There was nothing like it before, and there has been little like it since, although there has been a renaissance of blade-making (something watched with a beady eye and stringent licensure by the authorities). The finest Japanese swords arguably date from before the shogunate, and the very best of them are restricted from export, as they are considered part of the nation's cultural patrimony. The bulk of the antique swords offered by dealers like Kanshoan are from later periods. For example, the Meiji Restoration era (1800s) is well represented. Twentieth century, Showa-era swords, particularly the many swords made for military use during Japan's long midcentury war, are in a hot spot in Japan as they are not considered culturally desirable artifacts, but they are still swords and proscribed from most Japanese owners. (Showa-era swords that are products of individual artisans are on somewhat firmer ground as works of art).
Kanshoan divides their available swords by vintage: a sword is either "Historical" or a "New Age Sword," by which they presumably don't mean it's intended to be used by a drum circle in Sedona. It means it's produced by a living (or recently-living) swordsmith.
All historical swords (and the "new age" ones, too, frankly) are irreplaceable, unique works of art and science. But that doesn't mean they're staggeringly expensive. This is a detail of a Meiji era (1902) sword blade made by master Minamotono Masayuki.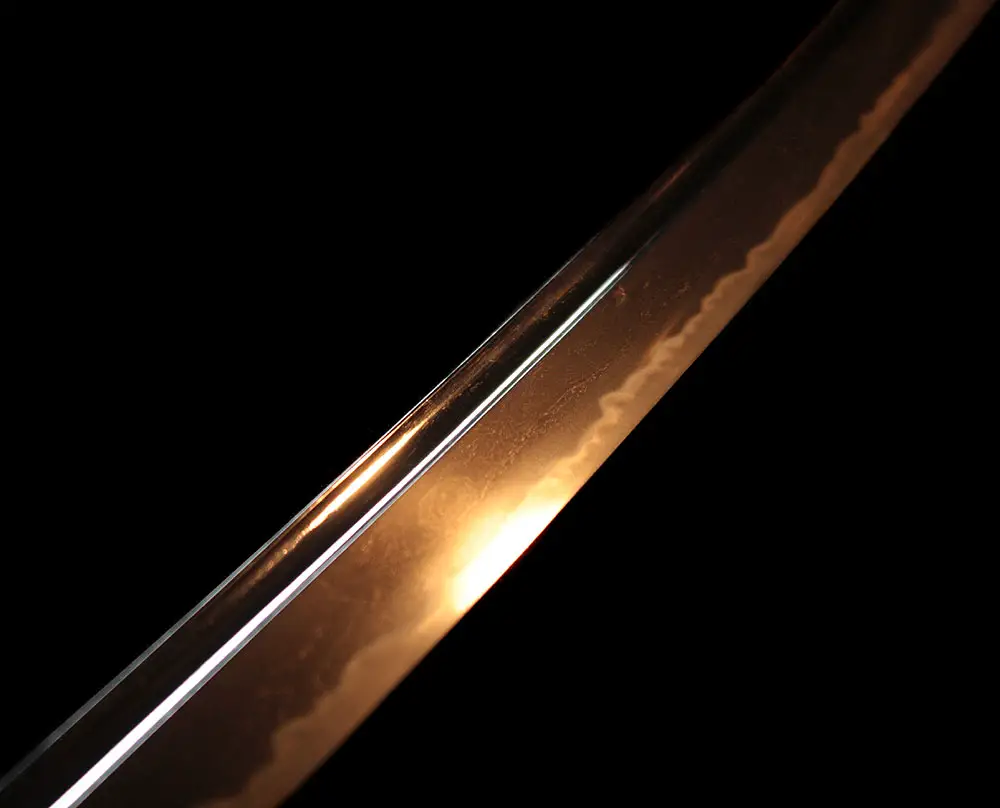 If you have to ask, maybe you can afford it: while the ¥650,000 price seems daunting, it's really $5,300 — if Japanese authorities will clear it to leave the country, which they probably will.
Kanshoan explains their name like this:
Our name recalls the legend of Kansho, a famous sword smith
from the Go country of ancient China.

As he worked by the forge, his wife, Bakuya, cut her hair and
nails and threw them into the blazing furnace.
Just then, two swords of unparalleled beauty were created.
The "Kansho-Bakuya" swords were to become known throughout the
country and by all ages as the finest ever produced.

We named KANSHOAN for this legend, as a place where you can
find historical and modern swords of such high quality and
legendary craft.
And they have this hope:
KANSHOAN hopes that its customers will act as golden
bridges between the past and the future, by passing on to
future generations the rich cultural heritage embodied in
Japanese swords.
Hear, hear.
Kanshoan is only one of several shops specializing in Japanese swords for the worldwide market. It makes a good visit if you have any fondness for beautiful weaponry.
We started this post many weeks ago, and set it aside when we ran into a complication. Tonight, we unearthed it again, after looking at a sword.
The sword eased our mind, and encouraged us. There may be something to that poem. A friendly Banzai to Kanshoan Sword Shop.